Find Out When You Can See Interstellar's Newest Trailer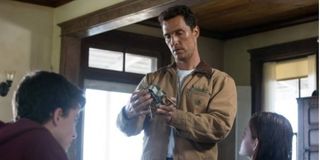 Out of all of the news to come out of this year's Comic-Con, perhaps the biggest surprise was Christopher Nolan and Matthew McConaughey making an unexpected appearance in Hall H during the Paramount Pictures presentation to promote their film Interstellar. Perhaps you've heard of it: it's a small indie film about reaching beyond our solar system to save the human race? Obscure stuff, I know. Anyhow, with their visit they brought a brand new trailer that showed off more of the film's visuals, as well as its thematic components. Everyone in the crowed oohed and aahed, and the rest of us on the outside were left to wonder just when we'd get to see what blew everyone's minds. Thankfully, Warner Bros and Paramount are a little more generous than Marvel Studios, as their Comic-Con footage will be hitting screens this weekend!
Starting this Friday with Guardians Of The Galaxy, Interstellar's second trailer will be running in theaters. What should we expect from this preview? Well, according to our own Sean O'Connell, you're going to see the following:
This is kind of a funny situation, considering Paramount used to be the distribution partner of Marvel Studios during the early days of Phase I. Of course, the Disney buyout of Marvel put an end to that relationship Iron Man 3, so this is almost like that awkward meeting of exes years after they split. Even funnier is production partner Legendary Pictures, who gave up a stake in the DC Comics universe in order to cash in on Christopher Nolan's new film - which will be a surefire hit.
Tangled company histories aside, Interstellar is one of the movies – if not the movie - to beat at the box office this fall. Christopher Nolan films know how to draw a crowd, and even the titles that just happen to have a trailer to one of his films attached to it tend to get a slight bump. Of course, Guardians Of The Galaxy is the last film that needs a bump this summer, but still... why not prime the biggest audience of the end of summer to prepare themselves to blast off into a fall of adventure? After all, it worked towards the beginning of the season with Interstellar's second trailer, which was attached to Godzilla.
Interstellar opens on November 7, 2014, and Guardians Of The Galaxy arrives in theaters at midnight on Thursday. The trailer, more than likely, will hit the internet sometime between Thursday and Monday, so stay tuned.
CinemaBlend's James Bond (expert). Also versed in Large Scale Aggressors, time travel, and Guillermo del Toro. He fights for The User.