This Means War Trailer: Tom Hardy And Chris Pine Get Silly Over Reese Witherspoon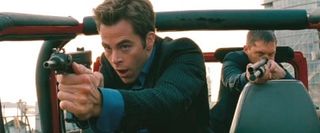 This Means War, the spy comedy starring Chris Pine, Tom Hardy and Reese Witherspoon, marks the meeting of two great geek friendly franchises-- think of it as Captain Kirk vs. Bane if you so choose. More htan that, though, it's the first movie McG has directed since the misguided Terminator: Salvation, returning him to the goofy, glossy, action-heavy movies he did so well with the Charlie's Angels films. Is this going to be a return to form that's worth the time? Judge for yourself with the new trailer, which debuted at Apple (opens in new tab) and can be watched there in HD or embedded below.
Then again, Pine and Hardy are both very quick-witted, and it seems like the scenes between them will be the highlights of the movie. Coming out President's Day weekend next February, This Means War doesn't seem to be aiming for giant blockbuster status, but a diverting and pleasant action comedy starring three people you'd watch do just about anything. As silly as this trailer was, it does kind of seem to fit that bill. What do you guys think?
This poll is no longer available.
Staff Writer at CinemaBlend
Your Daily Blend of Entertainment News
Thank you for signing up to CinemaBlend. You will receive a verification email shortly.
There was a problem. Please refresh the page and try again.