Megan Fox Smuggles Heroin, Guess Where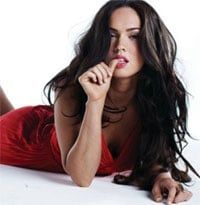 Megan Fox has been hired to play the female lead in The Crossing. In the film, Fox will be forced to smuggle heroin across the border to save her husband from evil Mexican carjackers. THR characterizes her character as a victim/hero; which I guess means they'll torture her and make her scream, but we won't have to feel bad about her objectification since she'll win in the end. I'd also characterize her as the world's hottest drug dealer.
Written by Byron Willinger and Philip de Blasi, The Crossing is still looking for directors. With Fox on board, I suspect that'll get easier. At worst, they should be able to rope in a few guys who want to stand in the same room with her.
While she waits for The Crossing to get busy, Megan Fox stays busy doing FHM photoshots, being rumored for every bikini-clad superhero in creation, and oh yeah she's got like six movies at least two of which contain giant freakin robots.
Your Daily Blend of Entertainment News