Merchandise Fail: Apparently Darth Vader Isn't The Only One Choking People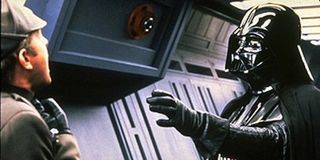 There are so many potentially inappropriate jokes to make about this bit of news. Disney has just recalled 10,000 infant onesies, many of them Star Wars themed, because they are apparently a choking hazard. While child endangerment is not particularly funny, the Star Wars items featured Darth Vader and, well, from there it's an easy step to Force choking, or even Anakin killing all the young kids at the Jedi Temple in the prequels. Maybe there was just a little bit too much of Darth Vader in these particular garments.
The onesies in question, many of which featured a cartoony caricature of Darth Vader and the message, "If you only you knew the power of the Dark Side"—the others commemorated Disneyland's 60th anniversary—were pulled because of the metal snaps that could detach from the outfit present a serious choking hazard. According to US News and World Report, there have been no reported injuries connected to the outfits at the present time, and customers can contact Walt Disney Parks and Resorts to get the details about receiving a full refund.
Darth Vader, and his previous identity, Anakin Skywalker, have, let's just call it a checkered past when it comes to both choking and child safety. When his underlings disappointed him in the original trilogy, it was not uncommon for Lord Vader to use the Force to give them a telekinetic squeeze around the jugular as a punitive measure. And as Admiral Motti learned in A New Hope, it's best not to mock Vader's "archaic religion," especially to his face or even while he's in earshot. He does not take kindly to such slights.
And then there's Anakin's slaughter of the Younglings at the Jedi Temple in Revenge of the Sith. By this point in the prequels, he'd already shown signs of what we knew was coming, his full-on descent into the Dark Side, like killing all those Tusken Raiders. But even though this action wasn't shown onscreen, it's still one of the most chilling moments of the prequels, and this is really the place where his fate is sealed, the transgression that is too big to realistically come back from. It's one of the darkest, grimmest points in all the Star Wars saga. It's almost enough to make you wonder why they would put his likeness on a piece of children's clothing, but we'll let that one slide.
The onesies that were recalled were sold between February 2015 and November 2015 at a number of Disney parks and resorts. This includes Walt Disney World in Florida, Disneyland in Anaheim, and a number of shops located aboard Disney Magic, Disney Dream, and Disney Fantasy cruise ships.
As the Star Wars universe continues to grow and expand, there have been rumors that we'll see more of Darth Vader in the future, possibly in Star Wars: Rogue One, and likely even more on Star Wars Rebels.
Your Daily Blend of Entertainment News