Michael Bay Kicks Megan Fox Out Of Transformers 3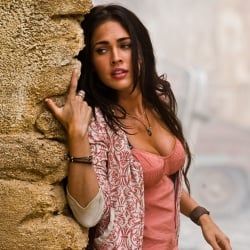 After Megan Fox made headlines last year by comparing Michael Bay to Hitler and Bay responded in kind with a fairly snide note of his own, speculation ran rampant that Fox's love interest character would be killed off before the third movie. With Transformers 3 almost ready to go into production we'd pretty much assumed Fox was safe by now, but apparently even hotties aren't safe-- Deadline reports that Fox's option on the third film will not be picked up, and Shia LaBeouf will have a new love interest in the next movie.
There's no evidence that Fox was dropped because she badmouthed her boss, but Deadline says that Bay had the final decision on whether or not Fox came back, and the guy's never really been known for his sense of humor or self-deprecating remarks. Fox probably dug her hole a little deeper recently in Allure magazine, when she blamed her old orangey tan on Bay-- "I had been tanning a lot so that Michael would be happy with my skin tone." Insiders are claiming that giving LaBeouf a new love interest makes more sense for the story, which is hilarious because it assumes that Transformers 3 will have a story.
I'd say good on Fox for having her say about Bay and moving on, but with her next starring vehicle, Jonah Hex, looking iffy at best, she might have needed that giant robot meal ticket.
UPDATE! Rumors about who will replace her have already begun circulating. Get the latest on those here.
Your Daily Blend of Entertainment News
Staff Writer at CinemaBlend