Mickey Rourke And Rosario Dawson Will Return For Sin City Sequel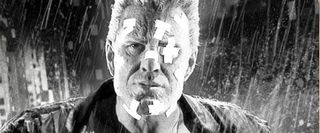 Robert Rodriguez has been promising a sequel to his sleek and sexy Sin City since 2005, but last week, after years of empty promises, fans were finally rewarded for their patience. Dimension Films announced Sin City 2 - rechristened as Frank Miller's Sin City: A Dame To Kill For - would at long last go into production. With news that casting would begin this week came the vague assurance that much of the original cast would surely return. And now Rodriguez has begun laying down some specifics. The director recently spoke with MTV and revealed that two key cast members will be making their return. "A Dame to Kill For, all those people come back," Rodriguez said. "I just had lunch with Mickey [Rourke] this weekend. He's all excited to come back, but he's probably the first one. I saw Rosario [Dawson] too. I ran into her for something else, and she's pumped. They've always been excited about doing another one, so that will be fun."
Of course, Rourke played the squared-jawed Marv in Sin City, but you may recall his tough as nails thug with a heart on his sleeve didn't make it out of his Hard Goodbye arc alive. No worries, though, because that story takes place after Miller's A Dame To Kill, meaning the Marv character is still alive and kicking ass in this part of the Sin City comic series. Without giving too much away, Marv—and by extension Rourke, who brought a magnificent pathos to the cartoonish killer — is crucial to the story, so it's good to hear he's eager to return. Likewise, Dawson's S&M enthusiast hooker Gail is pretty important—in the book anyway—but the cast member most people are curious about is Clive Owen.
When Sin City hit, Owen's fame was on the rise Stateside and he's since blown up into worldwide celebrity. So could they even get him now? A few months back MTV asked if he'd still be interested in being a part of Sin City 2, and Owen was magnanimous but noncommittal, saying, "Listen, I had a fantastic time with [Rodriguez] on that movie. I thought the movie was seriously groundbreaking. I'm a big fan of it as a movie. So yeah, of course I would be interested in doing it — but I really don't know what the state of it is."
With Owen's character, Dwight, being at the center of the graphic novel A Dame to Kill For, it would seem he's a necessary get for the project to go forward. That said, (possible spoiler ahead) Dwight underwent a major makeover from the start of the Sin City series to where the first movie picked up, meaning it's entirely possible—though not preferable—to recast this role. Either way, if this sequel is in fact on its way to production, we should soon have more casting news and more official confirmations.
Your Daily Blend of Entertainment News
Staff writer at CinemaBlend.