Miley Cyrus Will Break A Promise To God In Her Next Movie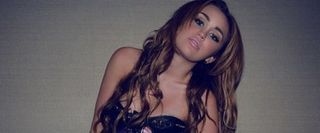 Miley Cyrus, whether you like it or not, is on her way to becoming a mainstream movie actress you might have to pay attention to. The former Hannah Montana star was doing pretty well in her teen niche for a while there, sticking to the Disney Channel and concert tours and maybe concert movies. But last year she found pretty significant success in The Last Song, an adaptation of a Nicholas Sparks novel written specifically for her, and she's got two more non-Hannah films on the way: LOL, a high school comedy that also stars Twilight's Ashley Greene and Demi Moore, and So Undercover, a spy comedy that somehow also wrangled in Jeremy Piven and Mike O'Malley.
Actually, make that three more films on the way. THR reports that Paramount has acquired an untitled pitch that has Cyrus attached both to star and to produce (yes, produce. She is 19). We don't know much about the premise beyond that it involves "a broken promise to God," and though THR takes this as an opportunity to call the movie "God-themed," there's really no telling how religious the film might wind up being. Cyrus has been outspoken about her Christian beliefs in the past, sure, but she also recently showed off her tattoo in support of gay rights. Assuming she's about to make the plunge into full-on pro-Christian filmmaking seems a little premature to me.
What seems way more likely is something along the lines of those Nicholas Sparks movie, just goopy and spiritual enough to appeal to religious audiences without crossing over any line that alienates others. That won't make this movie any good, but like nearly everything else Cyrus has done it her career, it will probably be profitable, and isn't that usually what matters most?
Your Daily Blend of Entertainment News
Staff Writer at CinemaBlend