Mireille Enos In Talks To Join Chloe Moretz In If I Stay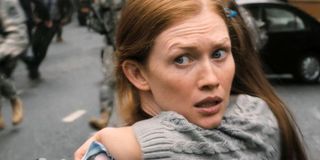 It's an old and stale joke that actresses are reluctant to move into the "playing moms" phase of their career, but that phase has been serving Mireille Enos quite well. The star of television's The Killing followed up that mom role with another opposite Brad Pitt in the surprise hit World War Z, and now she's in talks to play a cool mom in If I Stay, according to Deadline.
The MGM drama to be directed by R.J. Cutler is based on the Gayle Forman young adult novel of the same name. It's a bleak tale that centers on a 17-year-old girl named Mia Hall whose life hangs in the balance following a horrific car crash. Chloe Moretz has committed to play Mia, and should she sign on, Enos will play her mother Kat. But here's where things get tricky: the aforementioned auto accident makes Mia an orphan, as it killed her parents and possibly her younger brother Teddy. The book's narrative has her suspended in a coma, undergoing an out of body experience where she can see loved ones visit and recalls memories beautiful and bittersweet. In this not-dead-but-not-quite-alive realm, Mia must make a choice whether to wake up and stay with the living or give up and die.
Having not read the book, I'm presently unclear on how big a role Enos will have in the film. But it's likely flashbacks will be employed to reveal the Hall family's lives pre-accident. Beyond that the film should offer a compelling mother-daughter story as Mia is a bit of an odd duck in the Hall clan. The whole family is into music, but while her parents favor rock 'n' roll, Mia likes classical music and plays the cello. Her mother Kat is described as "tough as nails, tender as kittens" and devoted to her daughter—though she totally doesn't get Mia's taste in music. So, it sounds like this will be a role that will allow Enos to let her hair down both metaphorically and literally, playing a free spirit. It should be interesting to see.
There are still several notable roles that need to be cast. For one, there's Denny Hall, father of Mia, husband of Kat, and former rock band member turned teacher. Little brother Teddy has yet to be cast, nor has Mia's friends Adam and Kim. Adam Wilde is Mia's guitar-playing boyfriend, who is dreamy and, like her parents, favors rock 'n' roll over classical. Kim Schein is said to be sarcastic and deeply bonded to Mia, showing her devotion through many visits while the girl is in her coma.
MGM hasn't yet announced when If I Stay might roll into production. In the meantime, Enos has a trio of features headed to theaters. First up is Atom Egoyan's West Memphis Three drama The Devil's Knot, which is expected to open in 2013. Next year should see the release of her second collaboration with Egoyan, Queen of the Night, which co-stars Ryan Reynolds, Scott Speedman, and Rosario Dawson. And lastly, Enos will share the screen with none other than Arnold Schwarzenegger in the action-packed crime drama Sabotage. Basically, she's killing it.
Your Daily Blend of Entertainment News
Staff writer at CinemaBlend.