When Mission: Impossible 6 Will Probably Hit Theaters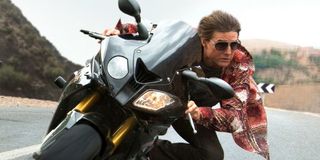 Mission: Impossible - Rogue Nation was a massive success for Paramount. It was beloved by critics and earned a substantial payday at the box office. So it's no surprise that the studio wants to deliver M:I 6 sooner rather than later. After another sequel was confirmed, we've now learned that the next installment could hit theaters within the next couple of years.
In a report from The Hollywood Reporter, the trade stated that Paramount wants to shoot M:I 6 as early as next summer with plans to release it in June or July of 2017. These plans could change, but that's the latest word on the street. It also falls in line with what Tom Cruise said a couple of weeks ago. The A-lister went on The Daily Show with Jon Stewart and told him that work has already begun on the sequel and they will probably start shooting it in summer of 2016.
This update comes a week or so after Paramount head honcho Rob Moore told Variety "Ethan Hunt deserves another film" and that the studio is happy to be making this movie with Cruise. Their leading man's star status was put into question recently by some critics, but Rogue Nation debuted to the tune of $121 million internationally during its opening weekend. It continues its steady rise and, at the time this article was published, sits at $268 million worldwide. Unsurprisingly, the film also bested the recent premiere of Fantastic Four, which was eviscerated by critics and the press.
Cruise returned as Ethan Hunt in Mission: Impossible - Rogue Nation, which saw the IMF agent go on the run from the government in order to prove the existence of a villainous, anti-IMF organization called the Syndicate. The film was directed and co-written by Christopher McQuarrie with a cast that featured Jeremy Renner, Simon Pegg, Ving Rhames and Rebecca Ferguson.
According to McQuarrie, though, M:I 6 would be better suited with another director at the helm. In a recent interview with UPROXX, he said that a major draw of the franchise is the change in director for each installment, which inherently makes each sequel distinct. McQuarrie, who also directed Cruise in Jack Reacher, isn't coming back to direct Jack Reacher 2, either. That job belongs to Edward Zwick of Cruise's The Last Samurai. So while McQuarrie hasn't officially knocked the idea of making another M:I, his track record suggests otherwise.
I'm sure we'll be hearing more on this forefront soon, given the priority Paramount is giving M:I 6. We'll also have to see whether or not this will delay plans for Jack Reacher 2. Though it's been announced, it doesn't have a release date, and already it's looking to be falling deeper into shadow as this new golden-child franchise emerges.
Your Daily Blend of Entertainment News