Mission: Impossible 6 May Already Be In Development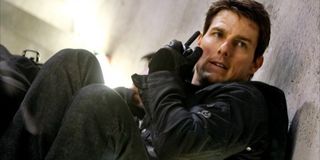 The fifth installment of Mission: Impossible hasn't even hit theaters, but it looks like the next film in the series is already under way. With the continuing success in the franchise it comes as no surprise that Tom Cruise will be taking on yet another impossible mission, but with more than two months left until Mission: Impossible - Rogue Nation hits theaters, it is quite the quick turnaround.
Obviously details are very limited at this moment, as word rolls in that tentatively titled Mission: Impossible 6 is only recently underway. The Tracking Board first broke the news that the franchise has apparently already set a new film in motion with Tom Cruise back to reprise his role as Ethan Hunt. The publication also noted that Cruise is returning to produce along with David Ellison, Dana Goldberg and J.J. Abrams. Don Granger and Matt Grimm are set as executive producers and Elizabeth Raposa will oversee development.
With the first three films of the action franchise primarily following Tom Cruise's Ethan Hunt, the fourth through sixth films of the installment change gears to focus on more of the ensemble cast that has joined in on the impossible missions. It started with Mission: Impossible - Ghost Protocol, as the series shifted its focus to Jeremy Renner, Simon Pegg and Paula Patton as well as Cruise. And the series continues to focus on the wide array of characters this time around in the fifth installment, Mission: Impossible - Rogue Nation will also add Rebecca Ferguson to the mix. With the sixth installment working in favor of a second half trilogy, it would only make sense we see the ensemble cast also returning for the adventure.
We've gotten a few glimpses into the action-heavy Rogue Nation where Ethan Hunt and the Impossible team are said to be taking on their deadliest foe yet. A rogue organization called the Syndicate is out to destroy IMF, and it is up to our favorite rag tag team to take them down.
Mission: Impossible - Rogue Nation is scheduled to hit theaters July 31. Closer to the release date we are bound to hear more news on the following installment and whether or not the full cast will again be on board. We'll also get to see whether or not the ending of MI 5 gives us any clues into the sixth installment.
Your Daily Blend of Entertainment News