Monster High Movie Coming For Your Daughters In 2016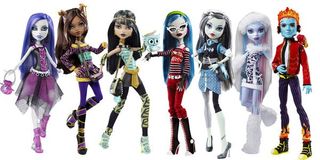 First they were freaky fashion dolls. Then they had their own webseries, books, and straight-to-DVD movie. Now the terrifying teens of Monster High are gearing up for their big screen debut. And for this one, they'll be in the flesh.
Variety reports Universal has announced a release date for a live-action Monster High movie. It will open opposite Ben Affleck's Live By Night on October 7, 2016. No talent or director has yet been attached to the project, but its producers include Josh Schwartz (Gossip Girl, The Carrie Diaries), Stephanie Savage (The O.C., Endless Love), Craig Zadan and Neil Meron (Footloose, Drop Dead Diva).
Monster High's story will follow a cast of characters that basically blend Barbie with Universal's classic monsters. For instance, the Monster High class includes Frankie Stein, Clawdeen Wolf, Draculaura, Lagoona Blue, as well as Cleo de Nile, Deuce Gorgon, Ghoulia Yelps, Abbey Bominable, and Spectra Vondergeist. No screenwriter has been tipped just yet, but the plotline will be a coming-of-age tale of self-discovery.
I'm frankly surprised to learn Universal is going live-action for Monster High, as the style of the animated version seems to be firmly defined. Here's a little intro for the uninitiated, featuring a quick story about Jane Boolittle that seems to pull some inspiration from Mean Girls:
As to how it might look in live action, here's a music video that could prove a low-budget preview:
Monster High is a hot property, the second-best selling dolls in the world (behind Barbie, naturally). But it's one that also has had its share of controversy. The dolls' look -- which features a big bobble head and very lean limbs, and narrow waist -- was attacked by some mommy bloggers who felt the fashion dolls send a dangerous message to little girls. The Day of the Dead doll Skelita Calaveras, especially, drew ire from those who felt she'd promote anorexia.
However, I suspect that Universal can sidestep these and other criticisms of the dolls' looks by going live-action. Under their development, Monster High could prove a powerful franchise, not only spurring a new branch of movie marketing for the studio, but also re-invigorating interest in their classic horror titles. Plus, the success of Twilight has shown there is an audience for teen stories with a dose of monster magnetism.
From here, it'll be interesting to see who Universal brings on board to helm and star. I'd suspect a peppering of TV tween stars. But hopefully Monster High's producers will also remember what a key element fashion is to a movie like this. Consider Clueless. Actually, just hire Amy Heckerling immediately.
Staff writer at CinemaBlend.
Your Daily Blend of Entertainment News
Thank you for signing up to CinemaBlend. You will receive a verification email shortly.
There was a problem. Please refresh the page and try again.