More Amazing Spider-Man 2 Images Reveal More Electro And Rhino Rage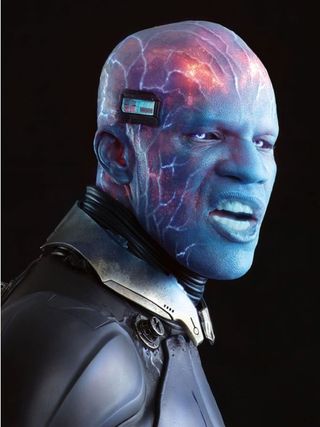 Our minds were pretty blown yesterday when Jamie Foxx's blue-skulled Electro was revealed facing off against Spider-Man on the cover of Entertainment Weekly, one of the many splashy bits of art the magazine has debuted in advance of Comic-Con next week. Now a peek inside the magazine (via Comic Book Movie) gives us an even better look at the villain, along with a new image of Spidey in full-on web-slinging mode. Check out that one below.
Let's focus on Electro for the moment, though. The jokes about him resembling Arnold Schwarzenegger's Mr. Freeze in Batman & Robin have been everywhere, but there's something genuinely unnerving about Foxx's appearance here, looking somewhere between and alien and a mutant. It's obvious now why set photos have shown us pretty much nothing of his appearance, since a lot of this look can only be accomplished through CGI (Rhys Ifans had to wear a cardboard head to play The Lizard, so really, Foxx has gotten off easy). But I can't want to see those glowing electric pulses on his forehead in action, or whatever that beeper-shaped thing embedded in his skull will do when Electro get busy destroying things.
There's also a new shot of what looks like a confrontation between Spidey and the non-electrified Electro, somewhere outdoors (though not in Times Square, where a lot of the production took place).
The new images also included a better look at Paul Giamatti's Rhino, who we saw furiously driving a car in an image tweeted by director Marc Webb back in May. He's doing the same thing in the new image, just in a sharper image. He also looks slightly less angry, even though the terrifying forehead tattoo clearly marks him as someone you don't want to tangle with.
Writing about the EW cover yesterday Sean speculated that the Rhino will only play into the beginning of the film, a villain born of the Oscorp lab testing whom Spidey can defeat in the opening moments of the film, leaving room for Jamie Foxx's Electro (a.k.a. Max Dillon) to be the primary focus of the film. With Dane DeHaan's Harry Osborn lurking in the background, we like any theory that keeps The Amazing Spider-Man 2 from turning into a villain-cluttered mess like Spider-Man 3. But do you think Sean has it right? Let us know in the comments-- and if you want to get out your best Mr. Freeze jokes, you can do that too.
Staff Writer at CinemaBlend
Your Daily Blend of Entertainment News
Thank you for signing up to CinemaBlend. You will receive a verification email shortly.
There was a problem. Please refresh the page and try again.