More Cloverfield Films For Mary Elizabeth Winstead? Here's What She Said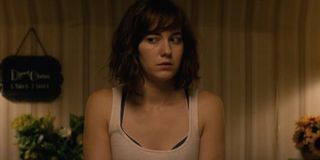 10 Cloverfield Lane has made an impressive start to its box office haul. Even though it only came in second place behind the Disney smash hit Zootopia, 10 Cloverfield Lane's $25 million gross means that it's already made more than its $15 million budget. And since it's, sort of, a sequel to 2008's Cloverfield, we can expect Bad Robot to already be developing further installments to the franchise. But they'll need to sign Mary Elizabeth Winstead up for further Cloverfield films first, because the actress has now admitted that she's not contracted for any more at the moment.
Mary Elizabeth Winstead made this admission to me when I sat down with her to talk about 10 Cloverfield Lane. I asked the 31-year-old actress if she'd already signed up for further Cloverfield films, and while she admitted that she hasn't done so yet, she teased that she'd be more than happy to do just that.
It's no surprise that producer J.J. Abrams, director Dan Trachtenberg, and the rest of the Bad Robot team would like Mary Elizabeth Winstead to lead the Cloverfield franchise going forward, as the effortlessly beautiful actress, who emanates a girl-next-door appeal, also displays a drive and tenacity that is perfectly suited to the sci-fi adventure genre.
Obviously, though, Bad Robot Productions have to decide on whether or not there will be any further Cloverfield films, first. But whereas J.J. Abrams and his crew were very patient and considerate about when to release the "spiritual" follow-up to 2008's Cloverfield, taking 8 years to do just that, it appears as though plans are already afoot for how to expand the universe following 10 Cloverfield Lane.
Even during my own discussion with director Dan Trachtenberg the director admitted that he and J.J. Abrams would constantly start to flesh out ideas for where the series could go while they developed 10 Cloverfield Lane. However, rather than jumping to conclusions and assuming that audiences would want to see further films, they have waited to see if viewers were still interested in the "Cloververse."
And while its $25 million opening weekend gross has hardly set the world alight, it should be enough to see further films follow. Especially since 10 Cloverfield Lane was released with a rather unusual marketing campaign, which only saw its connection to Cloverfield announced just over two months ago at the start of January. You can check out a snippet from my discussion with Mary Elizabeth Winstead below.
Those of you who haven't seen 10 Cloverfield Lane can do so now, or at a more convenient time, since it was released into cinemas last Friday.
Your Daily Blend of Entertainment News