More Nude Scenes For Helen Mirren? Here's What She Says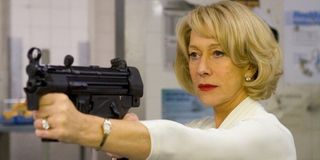 If you didn't already know this, Helen Mirren is awesome. Sure, she's a distinguished Shakespearian actress with tons of memorable roles and awards to her credit, but she also wants to be in a Fast and Furious movie, isn't afraid to brandish heavy weapons on screen, and is willing to take risks should a part demand it. There is, however, one thing that she's done in the past that shall remain firmly in the past from now on: don't expect any more nude scenes from Dame Helen.
During a recent interview on CBS, conducted by Alan Cumming, the 70-year-old Academy Award winner put the subject to rest, saying that her days of publicly baring it all are now behind her. She said:
Over the course of her illustrious career, Mirren has never been particularly shy about showing off her body, should the role require such a move. Dating back to Age of Consent in 1969, when she was 23, the actress has taken it all off a number of times, including in the X-rated Caligula, and in 2003's Calendar Girls. Even as recently as 2011 she stripped down for a photo spread in New York magazine.
Her "pleasure pillows" have become so well known in their own right that they were the subject of a digital short on Saturday Night Live. Apparently they have magical, transformative powers. Who knew?
While she never wanted to perform nude on screen, Mirren says she was also never particularly opposed to it, noting that it wasn't worth getting upset about. Part of this, she says, was due to the era where her acting career began. She even compared what they did in Caligula—a big-budget porn with Hollywood stars, produced by Penthouse founder Bob Guccione, and written by Gore Vidal—which, at the time, was very taboo, to things that have become commonplace today. She said:
So, Helen Mirren may not be appearing nude on screen anytime soon, but that doesn't men we won't still be seeing the clothed version of actress from time to time. Later this year, she appears in Trumbo, director Jay Roach's biopic of screenwriter Dalton Trumbo (played by Bryan Cranston), who was blackballed from Hollywood for being a communist. That film is slated for release on November 6, just don't expect Dame Helen to strip down.
Your Daily Blend of Entertainment News