More X-Men Movies For Jennifer Lawrence? Her Answer Is Beyond Cryptic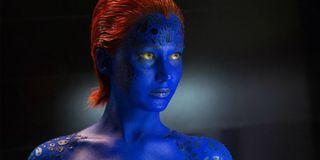 During the Fox panel at San Diego Comic-Con, Hugh Jackman said his goodbyes to his adamantium-clawed character before he goes on to star in the third Wolverine movie. (Watch a video of it here!) But might we also say goodbye to Jennifer Lawrence's Mystique? The Oscar-winning actress made it clear that she would not be returning to the franchise after X-Men: Apocalypse… or so we thought. New information arose that makes her future as the shape-shifting mutant more unsure than ever.
Lawrence sat down with Yahoo Movies during Comic-Con along with her fellow Apocalypse co-stars to chat about the film. During the conversation, she spoke about possibly returning in any future films.
It seems as though Lawrence has had a change of heart. A few months ago, she told MTV outright that X-Men: Apocalypse would be her last X-Men film. Though she wouldn't elaborate, we can probably infer her reasons. For one, that Mystique costume isn't the easiest thing to get in and out of. X-Men: First Class saw makeup artists painting Lawrence's entire body, but after she suffered an allergic reaction, they switched it up for Days of Future Past. Now only her face is painted, while the rest of her costume is comprised of a single zip-up jumpsuit. Secondly, Lawrence is one of the busiest and most in-demand actors in Hollywood. She's had a foot in two massive franchises, Hunger Games and X-Men, and she's had to strategically schedule her other films in between the shoots and press appearances for these films. With Hunger Games coming to an end with the release of Mockingjay, Part 2 this November, she'll have a lot more time to film projects, like her movie with Chris Pratt, that East of Eden remake and the recently announced The Rosie Project.
Departing X-Men would open up her schedule even more, but now it seems like she might stick around a while longer depending on how she feels at the time. She also told Yahoo that she loves doing these movies and she wants Fox to ask. Then, of course, there's the matter of the paycheck. Being Jennifer Lawrence has its perks. Sony gave the actress a $20 million payday for Passengers. But how much is Fox willing to offer for more Mystique action? X-Men: Apocalypse, which debuts on May 26, 2016, marks a continuation and a reboot of sorts. While it furthers the "past" storyline of Days of Future Past, it also features a bevy of new talent, including younger versions of Jean Grey (Sophie Turner), Cyclops (Tye Sheridan), Storm (Alexandra Shipp) and Nightcrawler (Kodi Smit-McPhee), all of whom could justifiably carry the franchise forward.
So, as J-Law implies, we'll see.
Your Daily Blend of Entertainment News