Nebraska To Be Shown In Color, Despite Alexander Payne's Best Wishes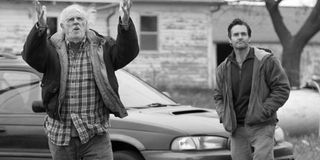 In his later years, filmmaker Orson Welles bore witness to an atrocity he probably saw as the most denigrating compromise between art and commerce. That atrocity was the colorization of classic films, a phenomenon that none other than media giant Ted Turner was a huge champion of. As if he were predicting Turner's unsuccessful future bid to colorize his own baby, Citizen Kane, he issued a warning to fellow filmmaker Henry Jaglom: "Keep Ted Turner and his goddamn Crayolas away from my movies." Now, 25 years after that battle for art was won, someone else has broken out the "goddamn Crayolas" and decided to air Alexander Payne's Nebraska in full color.
SlashFilm broke the news that Epix Network, the cable channel with the rights to premiere Nebraska on television, is going to be running the film twice in a row this Sunday night. At 8 PM, the film will be shown in its original black and white format; but at 10 PM – Epix will be showing it's "limited time" airing of a full color version. Unfortunately, nobody bothered to consult Nebraska's writer/director Alexander Payne, or even producer Albert Berger, that this version of the film was being shown.
Nebraska was originally shot in black and white, but thanks to some legal wrangling involving television showings in "certain markets," Alexander Payne had to create a color version for home viewing. Secure in the knowledge that the color version wouldn't be going to home video or easily accessible, Payne personally oversaw the colorization process and went on the record that he hoped no one would ever see the film. I can only imagine the anger that must have flared up in his mind when he found out that his creation would be shown in a version he's pretty much embarrassed even exists.
Nebraska is an absolutely beautiful film in its native black and white, and while I have to say I'm morbidly curious as to how the film would play out in color, I'm sad that version is even hitting the airwaves at all. Alexander Payne had an artistic vision that he set out to create in a certain format, he was granted the license to do so - and it fit the film beautifully. To watch a colorized version of Nebraska would be like watching a version of the film without Bruce Dern's Woody Grant. To add color to the film is to take away the artistic reinforcement of Woody's outlook on life. That is to say, the colorized version takes the dramatic punch out of the film and proceeds to turn it into something that more closely resembles mainstream Hollywood.
We'll see if there's any sort of public reaction (positive or negative) after Nebraska is shown Sunday night at 10 pm on Epix. If it's any consolation to Alexander Paybe, pretty much nobody has Epix. It's HBO's cousin that thinks it's as popular, but doesn't really have a chance.
CinemaBlend's James Bond (expert). Also versed in Large Scale Aggressors, time travel, and Guillermo del Toro. He fights for The User.
Your Daily Blend of Entertainment News
Thank you for signing up to CinemaBlend. You will receive a verification email shortly.
There was a problem. Please refresh the page and try again.