Nick Cassavetes Bails On Gotti Biopic, But It's Still Happening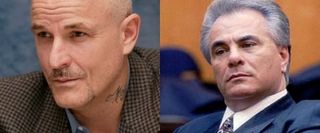 Just a week after holding a splashy press conference in New York to talk about the John Gotti biopic project Gotti: Three Generations, director Nick Cassavetes has walked away from the film, which is set to star John Travolta as the legendary head of the crime family. The reason given to Variety was scheduling conflicts with another Cassavetes project, the indie drama Yellow, but it seems more than a little strange for that conflict to come up only after a much-publicized press conference to announce the project going forward.
Travolta will definitely still star, and producers say they're still on track to start filming in the film. Joe Pesci is still on board to play Angelo Ruggiero, a capo in the Gotti crime family, and Lindsay Lohan is in fact in negotiations to join the cast after Gotti's daughter Victoria personally picked the actress to play her in the film. Cassavetes was already kind of a strange choice to direct-- his last film was the exploitative weepie My Sister's Keeper, and he also made the uber-chick-flick The Notebook-- so there's no telling where they might turn for another director to take over. And yet, I can't help myself from being interested-- the notion that this might bring out a truly interesting Travolta performance for the first time since Hairspray, added with yet another chance for Lohan to pull herself up out of the career gutter. If they can make this work, a lot of careers can be saved at once.
Staff Writer at CinemaBlend
Your Daily Blend of Entertainment News
Thank you for signing up to CinemaBlend. You will receive a verification email shortly.
There was a problem. Please refresh the page and try again.