Now Streaming: Netflix Instant Alternatives To The Amazing Spider-Man 2, Belle, And Neighbors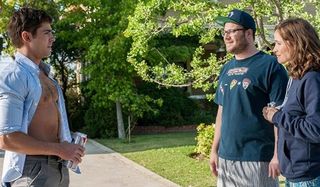 With so many titles to choose from, Netflix Instant's library can be overwhelming. So we bring you this biweekly column as a tool to cut through the clutter by highlighting some now streaming titles that pair well with the latest theatrical releases.
Looking to The Amazing Spider-Man 2, Belle and Neighbors for inspiration, we've pulled together a selection of superhero adventures, romantic period pieces, and hard-R comedies.
The Amazing Spider-Man 2
Peter Parker reunites with old friends and makes new enemies in the latest adventure of Spider-Man. Andrew Garfield, Emma Stone, Jamie Foxx and Dane DeHaan star; Marc Webb directs. Read our review here.
For more superhero excitement, make yourself up a marathon with a pair of action-packed Marvel movies and the misadventures of one of the strangest crimefighters to ever utter a catchphrase.
Spider-Man (opens in new tab) (2002) Before Andrew Garfield's Peter Parker was romancing Gwen Stacy, Tobey Maguire was suited up and seducing Mary Jane Watson. Here Maguire stars as a gawky high schooler who finds new confidence, new power and (of course) new responsibility when a bite from a radioactive spider gives him super powers and a higher calling. Kirsten Dunst and James Franco co-star; Sam Raimi directs.
The Avengers (opens in new tab) (2012) Another Marvel enterprise that's final battle centers in New York City, The Avengers unites Iron Man, the Incredible Hulk, Hawkeye, The Black Widow, Thor and Captain America to take on the chaos-loving god Loki. Dive in and discover why this is a crowdpleaser that just gets better with every re-watching. Robert Downey Jr., Mark Ruffalo, Jeremy Renner, Scarlett Johannson, Chris Hemsworth and Chris Evans star; Joss Whedon directs.
The Tick (opens in new tab) (2001) For something decidedly zanier, check out this short-lived but super silly sitcom about masked heroes and their misadventures around the city. Based on the popular comic book turned cartoon series, The Tick follows its titular and dopey superhero and his ever-flustered sidekick Arthur on the journeys of heroism and everyday mayhem. David Burke, Nestor Carbonell and Liz Vassey co-star.
Belle
This elegant period piece illuminates the story of Dido Elizabeth Belle, a biracial woman born to a British Admiral father and an African mother. Taken in by her aristocratic great-uncle, Dido struggles against class conflict and racism to find her own happiness and love. Gugu Mbatha-Raw, Matthew Goode, Emily Watson, and Miranda Richardson star; Amma Asante directs.
Tales set in centuries past can seem quaint and yet timeless. For more romances that are as tender as they are enviable, delve into these enchanting titles. Whether a classic story of sisterly devotion, a historical scandal, or heartbreaking story of love, these dramas will grab you by the heartstrings.
Sense and Sensibility (opens in new tab) (1995) This Academy Award-winning adaptation of Jane Austen's beloved novel stars Emma Thompson and Kate Winslet as the Dashwood sisters, two young women ready for love, but struggling to make sense of passion and romance in the Georgian Era where husband hunting was serious business. Hugh Grant and Alan Rickman co-star; Ang Lee directs.
A Royal Affair (opens in new tab) (2012) This Oscar-nominated drama from Denmark unfurls the complicated love triangle at the center of the Danish monarchy in the 18th century. Alicia Vikander stars as Mathilde, queen of the mentally unstable King Christian VII. Theirs seems a marriage meant for disaster, but both of their lives change for the better when they befriend a physician who proves an inspiration for them both, and a lover to the former. Mads Mikkelsen co-stars; Nikolaj Arcel directs.
The Wings of the Dove (opens in new tab) (1997) Based on the novel by Henry James, this unconventional love story is set in 1900s London. Helena Bonham Carter stars as Kate Croy, a young woman urged by her aunt to find a wealthy husband. Headstrong Kate much prefers the attention and affection of her penniless beau Merton Densher (Linus Roache). To forge a future together, the pair concoct a cruel scheme to manipulate a sweet and unsuspecting American heiress (Alison Elliott). But nothing goes according to plan. Charlotte Rampling, Alex Jennings co-star; Iain Softley directs.
Neighbors
Seth Rogen and Zac Efron face off in a comedy about what happens when a frat house moves in next door to a pair of new parents. The simple answer is a prank war with an R-rating. Rose Byrne, Carla Gallo, Dave Franco and Ike Barinholtz co-star; Nicholas Stoller directs. Read our review here.
If you like your comedy rude, crude and relentlessly lewd, then you'll love these wild titles. Whether it's the coming-of-age of a quartet of horny morons, a debauchery-stuffed canoeing trip, or the misadventures of a trio of coked up bridemaids, these picks will have you screaming with laughter.
The Inbetweeners (opens in new tab) (2008) This widely praised British sitcom centers on four painfully clueless teen boys who are making a mess out of adolescence. Preparing for exams, trying to drink underage, or attempting to score with girls, are all things these idiots manage to bungle every turn. The results are hysterical, and too raunchy for American television. Seasons 1-3 are now streaming. Simon Bird, James Buckley, Blake Harrison and Joe Thomas star.
Klown (opens in new tab) (2010) Based on the Danish comedy show, Klown follows two ridiculously immature men on a road trip wilder than any you've seen before. To prove to his pregnant girlfriend he's ready for fatherhood, Frank kidnaps her 12-year-old nephew and takes him along on a boys-only weekend that involves, drug use, brewery tours, and a brothel visit. Strap in for a whole new level of dirty humor. Frank Hvam, Casper Christensen co-star; Mikkel Nørgaard directs.
Bachelorette (opens in new tab) (2012) Kirsten Dunst, Isla Fisher and Lizzy Caplan star as the world's worst bridesmaids in this outrageous Sundance comedy about the most insane Bachelorette party ever. In the course of one night, these three overgrown party girls manage to insult the bride with a stripper-gram, rip her bridal gown into pieces, and bring their issues out into the streets of Manhattan. But can they fix the dress and clean up the act before wedding bells ring? Adam Scott and James Marsden co-star; Leslye Headland directs.
For even more selections, check out our Now Streaming archive.
Staff writer at CinemaBlend.
Your Daily Blend of Entertainment News
Thank you for signing up to CinemaBlend. You will receive a verification email shortly.
There was a problem. Please refresh the page and try again.