Now Streaming: Netflix Instant Alternatives To Sex Tape, Boyhood, And Planes: Fire And Rescue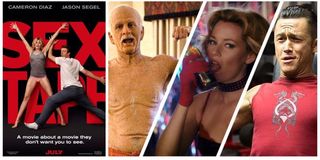 With so many titles to choose from, Netflix Instant's library can be overwhelming. So we bring you this biweekly column as a tool to cut through the clutter by highlighting some now streaming titles that pair well with the latest theatrical releases.
Looking to Sex Tape, Boyhood and Planes: Fire And Rescue for inspiration, we've pulled together a selection of sex comedies, coming-of-age dramas and animated adventures.
Sex Tape
Jason Segel and Cameron Diaz star as a married couple who tries to give their sex life a jolt by recording themeselves doing the deed. But their private moments goes public when their sex tape auto-uploads to the cloud. Can they track all the shared files down before their friends, family and co-workers see it? Rob Corddry and Ellie Kemper co-star; Jake Kasdan directs. Read our review here.
If you like your laughs with a side of sex appeal, check out this trio of wild titles. Be it a bad grandpa letting it all hang out, a pair of pals making a porno, or a Jersey boy obsessed with all things smut, these oversexed anti-heroes will deliver all kinds of off-color comedy.
Bad Grandpa .5 (opens in new tab) (2014) Johnny Knoxville takes his Jackass shtick on the road and undercover, bringing to life Irving Zisman, a very dirty old man who proves a major influence on his chubby, foul-mouthed little grandson. Jackson Nicoll co-stars; Jeff Tremaine directs.
Zack and Miri Make a Porno (opens in new tab) (2008) Seth Rogen and Elizabeth Banks play two best friends who are in desperate need of some quick cash. So--like you do?--they turn to porn. While fear or embarrassment might not prove a problem, their blossoming feelings for each other just might. Kevin Smith directs.
Don Jon (opens in new tab) (2013) In Joseph Gordon-Levitt's directorial debut, he stars as Jon Martello, a bronze and buff playboy who does well with the ladies, yet prefers alone time with porn. Can a relationship with a sizzling hot vixen (Scarlett Johansson) change him? Julianne Moore, Tony Danza and Brie Larson co-star.
Boyhood
Richard Linklater explores coming of age like no other by making a movie over 12 years. Ellar Coltrane, Patricia Arquette, Ethan Hawke and Elijah Smith star; Linklater directs. Read our review here.
Coming-of-age stories can offer tales that are tough and tender. For some stellar standouts of this subgenre, check out these three critically-heralded coming-of-age dramas.
My Girl (opens in new tab) (1991) In the summer of 1972, Vada Sultenfuss is an 11-year-old girl poised to learn some big lessons with and thanks to his best, bespectacled bud Thomas J. Dan Aykroyd, Jamie Lee Curtis and Macaulay Culkin co-star; Howard Zieff directs.
Mud (opens in new tab) (2012) Playing the titular mysterious figure, Matthew McConaughey fronts this celebrated original narrative from writer-director Jeff Nichols. Mud is a man wanted by the law, but he unexpectedly finds a chance at a happy ending when he meets two intrigued teen boys who discover his hiding place on a little island in Mississippi. In exchange, they find some tough lessons about growing up. Reese Witherspoon, Tye Sheridan and Jacob Lofland co-star.
Jane Eyre (opens in new tab) (2011) Adapted from the classic Charlotte Brontë novel, this period drama stars Mia Wasikowska as the eponymous heroine whose rough childhood led her to a vocation as a governess, and an unexpected but problematic romance with a dashing gentleman with a terrible secret. Michael Fassbender co-stars. Cary Fukunaga directs.
Planes: Fire & Rescue
As a sequel to the Cars spin-off Planes, this high-flying adventure has Dusty the cropduster-turned-racer back in the skies. But this time, he's switching gears, aiding helicopter Blade Ranger and his team, The Smokejumpers, to battle a massive wildfire. Dane Cook, Ed Harris and Julie Bowen lend their voices; Roberts Gannaway direct. Read our review here.
If Planes: Fire & Rescue is giving you a sense of wanderlust, then you (and the youngsters) might appreciate these animated adventures that trek around incredible worlds.
The Smurfs 2 (opens in new tab) (2013) Since the last Smurfs adventure, the villainous Gargamel has become the toast of Paris as a mean-spirited magician. But the magic is real, culled from the essence of Smurf. He's running low, and so calls on his Naughties to trick Smurfette into aiding his master plan to get more! Hank Azaria, Neil Patrick Harris, Jayma Mays and Brendon Gleason co-star; Raja Gosnell directs.
The Pirate Fairy (opens in new tab) (2014) Tinker Bell (Mae Whitman) makes new friends--and finds a new enemy--in this adventure about misfits and magic. Zarina (Christina Hendricks) is an inquisitive fairy who prefers to stroll, and has a passion for chemistry. But when her experiments get her thrown out of the fairy community, she finds a new friend in a dashing pirate named James (Tom Hiddleston). This is a charming cartoon, whatever your age. Peggy Holmes directs.
Tarzan (opens in new tab) (1999) A boy grows up in the wild of the African coast after being swept ashore post-shipwreck. He considers himself an ape, but when lovely explorer Jane and her team stumble across Tarzan, he realizes what man is, and that he is one. Plus musical numbers! Tony Goldwyn and Minnie Driver lend their voices; Chris Buck and Kevin Lima direct.
For even more selections, check out our Now Streaming archive.
Staff writer at CinemaBlend.
Your Daily Blend of Entertainment News
Thank you for signing up to CinemaBlend. You will receive a verification email shortly.
There was a problem. Please refresh the page and try again.