Olivia Munn Dubsmashing Her Favorite Movie Scenes Is Weird But Mesmerizing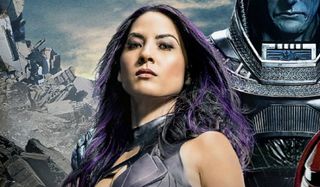 Dubsmash is the exquisite art of dubbing short selfie videos with famous sounds, and Olivia Munn is better at it than any of us. Shortly before she partied it up with her fellow X-Men: Apocalypse co-stars at the wrap party, her and her boyfriend, football player Aaron Rodgers, had some fun with the popular app, channelling everything from Princess Bride to Mariah Carey.
As fate would have it, their first video is their best video. The two reenacted the famous scene from The Princess Bride between Miracle Max (Billy Crystal) and his wife Valerie (Carol Kane). It's right in the heat of the moment when she's screaming "Liar" at Max, and the two bring such zest and life to the moment. Munn, then, went solo for the next Dubsmash to channel another famous scene from the film: Mandy Patinkin's "My name is Inigo Montoya…"
Munn and Rodgers churned out six Dubsmashes, because sometimes the spirit moves you. The actress and token geek girl went on to reenact Denzel Washington's King Kong line from Training Day, channeling the same intensity that won Washington that Best Actor Oscar.
The pair then reunited for some musical numbers, the best of which would have to be Mariah Carey's "Hero." While Munn takes the role of lip syncing the classic song, Rodgers is in the background delivering the interpretive dance of his life. It's true what they say about athletes being graceful dancers. All of them, including Boyz II Men's "End of the Road" and Sarah McLachlan's "I Will Remember You," are worth watching. Check them all out on Munn's Instagram.
The actress had been training for her role of Psylocke in X-Men: Apocalypse, learning martial arts and katana-twirling from her trainers. Director Bryan Singer recently announced on social media that the main unit has wrapped. Though he tweeted there are a couple more weeks left of second unit work, the cast and crew met up for a night of frivolity at the wrap party in Montreal. Munn posted photos of herself posing with two of her other Horsemen — Ben Hardy (Angel/Archangel) and Alexandra Shipp (Storm). Also spotted, as Instagrammed by Singer, were Josh Helman (William Stryker) and James McAvoy (Professor Xavier).
X-Men: Apocalypse hits theaters on May 27, 2016.
Your Daily Blend of Entertainment News
Thank you for signing up to CinemaBlend. You will receive a verification email shortly.
There was a problem. Please refresh the page and try again.