Olivia Munn's X-Men Videos Hint At Psylocke's Classic Weapon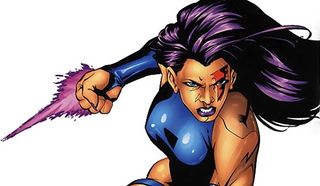 When Bryan Singer's X-Men: Apocalypse hits movie theaters next year, it will bring fan-favorite mutant Psylocke along with it, portrayed by Olivia Munn. Not only will this mark the telepathic mutant's latest feature film adventure (she appeared briefly in X-Men: The Last Stand in 2006), it also looks like we're going to be getting her psychic knife. We've seen videos of Munn practicing her ass kicking skills, and two new behind-the-scenes have surfaced showing her practicing with a katana, one of her traditional weapons, as well as a second, smaller blade that could very well be a stand in for the telepathic weapon.
Instagram user mamapeachsb captured these videos of Munn on set, attached to wires, flipping around, weapons in hand, and generally looking pretty badass. We can't wait to see her with purple hair and showing off her cinematic martial arts skills on screen. The appearance of the katana is no surprise, she is a ninja after all, but that second blade has given some pause and caused some speculation that her psychic knife may come into play in X-Men: Apocalypse.
Starting life in 1976 as Betsy Braddock, the character didn't really become Psylocke until Chris Claremont, who created her, brought her into the X-Men franchise in the mid-1980s—she was abducted into the Mojoverse, rescued by the New Mutants, and eventually took up residence at a mutant training school run by Magneto. We know that in Apocalypse she and Magneto (Michael Fassbender), along with Storm (Alexandra Shipp) and Angel/Archangel (Ben Hardy), are the titular villain's Four Horsemen, and this could explain their connection in the film.
It wasn't until even later than this that the psychic knife first showed up on the scene. It kind of crept in as the character became more of a badass warrior and assassin. After she was abducted by the Hand, brainwashed, and turned from a British model into an Asian assassin (yep, that happened), that's when she gained the ability to focus the totality of her psychic abilities and telepathy to form the "psychic knife."
It remains to be seen if what we witness here in these videos is indeed a stand-in for the psychic knife. What Olivia Munn has in her grip looks a bit like a like a handsaw, but it doesn't really fit in with anything else that we know of from the character's arsenal. She is a skilled assassin and fighter, so it's possible she has other tools, but it does stand to reason that it is her psychic knife. How she uses the weapon here, and the general shape, does resemble how Psylocke wields her ability in the comics.
We'll find out for sure what this is when Munn and the rest of the cast of X-Men: Apocalypse hits the silver screen on May 27, 2016.
Your Daily Blend of Entertainment News
Thank you for signing up to CinemaBlend. You will receive a verification email shortly.
There was a problem. Please refresh the page and try again.