Orlando Joins Seasons Of Dust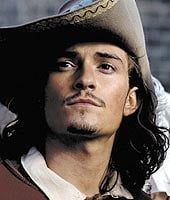 Orlando Bloom must believe that couples who work together stay together, since he's just signed up to co-star opposite his real life girlfriend, Superman Returns star Kate Bosworth. Now they're both set to topline the independent drama Seasons of Dust, according to Production Weekly.
Written and directed by Tim Blake Nelson, the film is set in the worst of the Great Depression and tells the story of a girl named Janey (Bosworth), who takes refuge with a farm family after her grandfather's suicide. After a rape attempt by the farmer's son, Janey flees into the arms of a dashing crook named Ricky (Bloom). Pursued by both the police and hired hitmen, the two race across the country in a desperate, and ultimately tragic attempt to escape.
Both Bosworth and Bloom seem to be slipping into that familiar actor pattern of alternating box office smashes with likely to be ignored indie features. Seasons of Dust fits right into that, as a follow up to Bloom's Pirates 2 and Bosworth's stint in Superman.
Tim Blake Nelson is best known as an actor (he's the short one from O Brother, Where Art Thou?), but this is fifth indie movie directing gig. He'll start shooting Seasons of Dust in mid-July in Oklahoma and New Mexico. Coincidentally, those locations also top my list for places I'd least like to be in the dead heat of one of the hottest, driest summers on record. Thanks global warming!
Your Daily Blend of Entertainment News