Paul Thomas Anderson's Inherent Vice Finally Shooting This Month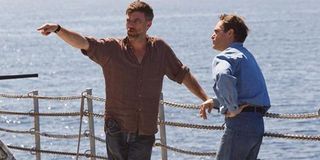 Even after everyone had moved on to fighting over whether or not Zero Dark Thirty endorsed torture and joining the "Ben Affleck was robbed!" pity party, Paul Thomas Anderson's The Master remained one of the most divisive films of awards season, the movie that even some of his die-hard fans couldn't quite love. Then its three lead actors-- Philip Seymour Hoffman, Joaquin Phoenix and Amy Adams-- all got Oscar nominations in categories we knew they wouldn't win, and Oscar season marched happily along without them.
Anderson, as usual, didn't seem to pay a bit of attention to the hubbub and went on quietly preparing his adaptation of Thomas Pynchon's Inherent Vice. Though at one point Robert Downey Jr. was set to star, he was replaced in January by Joaquin Phoenix-- and that was really the last we heard about it. Now, thankfully, well-connected Anderson fan site Cigarettes and Red Vines has provided some updates, and pretty much all of them are good news. Warner Bros. has gotten on board to finance the film, making it the first time that Anderson has worked directly with a major studio (though he did maje Boogie Nights and Magnolia with New Line, which WB now owns). Robert Elswit, who won an Oscar for shooting There Will Be Blood, will be back as cinematographer, and shooting on 35mm film. And, most excitingly, shooting will finally begin this month.
That means we should get ready for a whole lot of casting information, including possible confirmation of Charlize Theron's participation and a whole lot of other roles. Inherent Vice, which you can pick up here (opens in new tab), will star Phoenix as a private detective in late-60s Los Angeles who gets caught up in a plot to kidnap a billionaire land developer. It sounds like exactly the kind of great novel that will never work on screen-- which is exactly why we can't wait for Anderson to give it his best anyway.
Your Daily Blend of Entertainment News
Staff Writer at CinemaBlend