Paxton Directs JFK Assassination Movie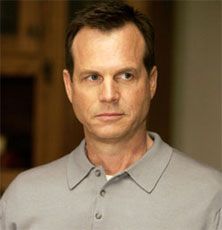 It's hard not to love Bill Paxton. He's had memorable roles in more iconic movies than just about any actor in Hollywood. He's worked steadily, become famous, and for the most part done it without ever being though of as a leading man. And in person, he's just about the most affable, easy going, friendly guy you'll ever meet.
In 2001 Bill directed his second movie, but his first since a little mostly unseen indie in Fish Heads. The 2001 film was Frailty, a chilling, smartly constructed little horror thriller that left everyone wanting to see him behind the camera more. He followed that up with The Greatest Game Ever Played, a golf movie which, frankly, didn't feel like it was the right genre for him.
Even though Greatest Game wasn't great, I'm still excited to see what he'll direct next. Our friends over at Moviehole caught up with Bill promoting his excellent HBO series 'Big Love' and put the director question to him. Paxton's response? He's got two new directing projects on the way.
The first is based on a novel by crime writer George Pelecanos called "Shoedog". Paxton calls it an "urban-western", and says he wants to modify the tone of it a bit to "go back to that hard-boiled '70s style with terse dialogue - it's men taking down a liquor store, dealing with the consequences, all that kind of stuff." The book is about a restless man named Constantine who travels the world. He meets a home town boy named Randolph, and the two hatch a plan to rob a liquor store. Constantine falls for a woman, and becomes embroiled in treacheries and feuds over his head, while Randolph, a "shoedog" can smell trouble coming.
His second project, one which Paxton says is still five years or more off, is much more audacious. Bill says his dream project is to "make a movie about the assassination of President John Fitzgerald Kennedy." Yep, he wants to go the Oliver Stone route. But then doesn't just about every guy in his age range?
For more from the great Paxton, check out Movihole's complete interview here.
Your Daily Blend of Entertainment News
Thank you for signing up to CinemaBlend. You will receive a verification email shortly.
There was a problem. Please refresh the page and try again.