A Piece Of Star Wars History Is Going Up For Auction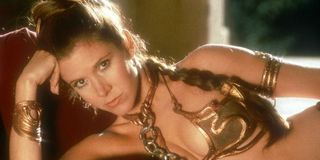 I'm going to guess that there are plenty of people who might be interested in acquiring the latest piece of Star Wars history that has suddenly become available. That's because, if they've got enough money and are willing, fans now have the opportunity to buy Princess Leia's metal bikini from Return Of The Jedi. Ladies and gents, form a queue.
The good folks over at Profiles In History have set up their catalogue for a forthcoming auction of Hollywood memorabilia, which includes a wide variety of Star Wars items. In fact, there are 49 other Star Wars-related lots available. But they don't matter, because the famous bikini that Carrie Fisher was forced to wear after being enslaved by Jabba The Hutt in Return Of The Jedi is by far the most prized by fans. The iconic piece of attire, designed by Richard Miller, is estimated to pull in anywhere between $80,000 and $120,000 when it becomes available.
For those of you that don't know why this bikini is so memorable and simply don't understand what all of the hullaballoo is about it, you've either suffered a brain malfunction that has resulted in memory loss, or haven't seen Star Wars: Return Of The Jedi. If it's the former I offer my support for your recovery. If it's the latter, it's interesting that you found your way to this article. Either way, here's a clip of Fisher as Leia in the bikini for you to devour and fawn over.
Now you get it, don't you? According to Rolling Stone, this latest batch of memorabilia from the franchise has been described as "the most important and complete compilation of original Star Wars pieces to have survived production in private hands." It also includes a variety of other costumes from the Star Wars series, each of which were chopped and changed by George Lucas. This includes an original prototype of Darth Vader's helmet, a Rebel Fleet trooper tunic and helmet, and a miniature Rebel Blockable runner. It's expected that the winning bids for these items will range between $30,000 and possibly $300,000.
If you're interested in acquiring your very own piece of Star Wars memorabilia, there are still a few days left to look under you couch to find enough pennies (and perhaps call the local branch of your bank for a loan). The auctions are scheduled to be held between September 29th and October 1st. If you don't find enough money you can console yourself with the fact that Star Wars: The Force Awakens is now less than three months away.
Your Daily Blend of Entertainment News