What Lupita Nyong'o Liked About The Way Star Wars 7 Was Shot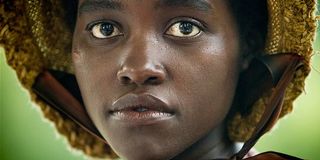 It's safe to assume that everyone involved in the production of Star Wars: The Force Awakens had a rather swell time working on the film. Not only were they living out their childhood fantasy, but they were also shooting arguably the biggest blockbuster of the last decade. But Lupita Nyong'o has a rather specific reason why she enjoyed her time on the set, and it was all down to the fact that she used motion-capture to film her role.
Speaking to Vogue, the cover of which she graced for the second time this month, Nyong'o admitted that she found this new form to capture her performance entirely freeing, and she revelled in the fact that she could take her character to such extremes. The Oscar-winning actress explained:
Elsewhere in the interview, Lupita Nyong'o admitted that acting as a motion-capture character was both "really bizarre" while at the same time "lots of fun." She even talked about a little bit about how she acted out being "anything," Nyong'o explained:
Lupita Nyong'o is the latest in a long-line of actors to have utilized the motion-capture acting suit for a performance. Benedict Cumberbatch (The Hobbit: The Desolation Of Smaug), Bill Nighy (Pirates Of The Caribbean: Dead Man's Chest), and Mark Ruffalo (The Avengers) have each used the device with aplomb, but the king of the form is obviously Andy Serkis, whose portrayals in King Kong, the Lord Of The Rings trilogy, The Hobbit, and Planet Of The Apes films have legitimized motion capture.
But, there's every chance that Lupita Nyong'o could now challenge Serkis' dominance in this field. Anyone who saw 12 Years A Slave would have born witness to a rare talent that was able to provide a raw and heartfelt portrayal in one of the most intense movies of the last 20 years. Just imagine what she'll be able to do when that performance is provided to a character that can go to even more extremes! For her efforts in 12 Years A Slave, Lupita Nyong'o was rewarded with the Best Supporting Actress Academy Award, as well as an array of acting options.
It's no surprise that she decided to take the Star Wars: The Force Awakens role offered to her, which at this point still remains tightly under wraps. All that we do know is that she'll be portraying a CGI character named Maz Kanata, who is also a pirate. Other than that, we've got pretty much zilch.
Even though she's alongside a raft of fine acting talent in Star Wars: The Force Awakens, which includes Oscar Isaac, Andy Serkis, Adam Driver, Harrison Ford, Max Von Sydow, John Boyega, and many, many more, Nyong'o could be the one to outshine them all. We'll see if that's the case when Star Wars: The Force Awakens finally opens on December 18.
Your Daily Blend of Entertainment News