Plot Details Emerge For Terrence Malick's Movie With Ben Affleck, Rachel McAdams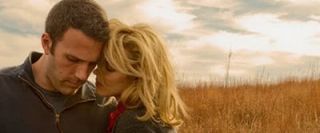 Yesterday's big news about the new projects Terence Malick has up his sleeve was mostly focused around two films he plans to shoot back-to-back in 2012, Lawless with Ryan Gosling and Christian Bale and Knight of Cups with Bale, Cate Blanchett and Isabel Lucas. But it was easy to overlook the fact that he's already got another movie in post-production, having ramped up his filmmaking speed in an astonishing way for a filmmaker who once spent 20 years between movies. The recent project, which stars Ben Affleck and Rachel McAdams, still doesn't even have an official tittle, but The Los Angeles Times was finally able to dig up some plot details about it all the same.
Shot in Paris and Oklahoma, the movie-- at one point called The Burial-- stars Affleck as a man who engages in an affair on a trip to Paris with an exotic European woman, played naturally by the exotic Russian Olga Kurylenko. He returns home to Oklahoma married to the European, partly for green card reasons, but also kicks up an affair with a local girl, played by Rachel McAdams. Javier Bardem plays a priest, and the script promises both a happier ending than The Tree of Life (a movie that ends with the apocalypse, you might remember) and more of Malick's trademark visual beauty.
So far, so good, right? Though if you compare the plot description to that for Tree of Life -- "Man comes to terms with his childhood and also the history of the universe"-- it sounds a whole lot more mainstream, which might be good for a director trying to sell two more movies in the coming year. It's still an open question as to whether this newfound productivity will be a good thing for Malick, but it's also hard not to get excited that one of our most interesting living filmmakers isn't going to crawl into another hole and not be seen for 20 years. Even if these movies aren't his usual brainteasers, they'll still be Malick, and that will probably be good enough.
Staff Writer at CinemaBlend
Your Daily Blend of Entertainment News
Thank you for signing up to CinemaBlend. You will receive a verification email shortly.
There was a problem. Please refresh the page and try again.