The Pope Calls These Hollywood Stars To The Vatican For A Special Meeting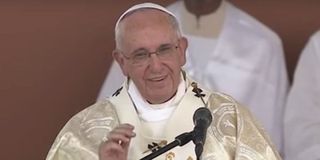 Since taking over in 2013, Pope Francis, the current leader of the Catholic Church, has made waves for what many followers view as unorthodox stances on issues like homosexuality, divorce, and the ordination of female priests, among others. The general consensus is that he does things rather differently than his predecessors. And now he's invited some Hollywood celebrities and big wigs, including Oprah, to the Vatican for a kind of summit later this year.
According to The Hollywood Reporter, Pope Francis has created a shortlist of influential members of the entertainment community to invite to the Vatican this fall for the purpose of improving the Church's images in Western media and entertainment. (Oh man, is he going to hate that Spotlight movie that comes out in November.) And if anyone can influence how the entertainment industry portrays the Catholic Church, it may very well be the folks on his list. To say they have some pull is putting it mildly.
According to the report, media mogul Oprah Winfrey scored an invite, as did actor/writer/producer Matt Damon, not to mention music and movie executive David Geffen. Super producer Brian Grazer is on the list, as are the influential heads of the William Morris talent agency Patrick Whitesell and Ari Emmanuel, who is the inspiration for Jeremy Piven's Ari Gold character on HBO's Entourage.
The Vatican has apparently been working with the Varkey Foundation, a nonprofit organization that seeks to improve education for children across the world by training teachers, encouraging enrollment in school, and through advocacy. They reportedly worked with the Papal representatives to come up with the list in question. The reason they give, however, is different than the one posited in the article, and has nothing to do with the image of the Church. According to a Varkey Foundation spokesperson who commented after the initial article was released:
That seems more in line with what the Varkey Foundation would be interested in, discussing the impact and influence of the media on young people rather than how to make the Catholic Church look better in movies and on TV.
There's no word yet on when this meeting will go down, or which, if any, of the invitees will attend this gathering. It's not every day the Pope gives you a personal invitation to hang out at his place, so you have to imagine at least a few will accept.
Your Daily Blend of Entertainment News
Your Daily Blend of Entertainment News
Thank you for signing up to CinemaBlend. You will receive a verification email shortly.
There was a problem. Please refresh the page and try again.