Watch Common Leave Oprah Hanging In This Vicious High Five Snub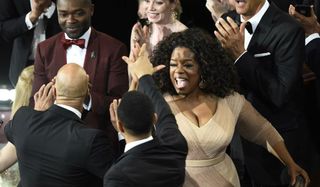 There were a few incredibly awkward moments during the 2015 Oscars, the top probably being the interaction between John Travolta and Idina Menzel (again). But, there were some uncomfortable moments that were so quick, you may have missed them. Of those moments, one in particular snubs arguably the most powerful woman in the world, Oprah. Watch as Common and John Legend head to the stage to accept their award for Best Original Song as Common blatantly ignores Oprah's high five.
It looked as if Oprah could not wait to congratulate the two, who she had spent plenty of time with filming Oscar-nominated film, Selma. But, Common looked as though he could care less about the Queen of all media's high five, and as soon as he spotted Selma star, David Oyelowo, Common whizzed past Oprah and went straight for his embrace. The moment came soon after their incredible, tear-jerking performance of the Oscar-winning song, "Glory", which brought Oyelowo and other crowd members to tears. So, it seemed appropriate that Oyelowo and Common embrace, but to leave Oprah out of the mix, is a big "no no". So of course immediately after the seemingly blatant snub, Twitter went absolutely wild, concerned about the musician's safety, claiming "he'll be dead by midnight" and "that's grounds for a life in exile".
But not to worry, because almost immediately after Common realized his mistake, probably because everyone's mouths dropped in unison after Oprah went for the up top, only to turn her and follow him in his denial. So, to make up for not slapping Oprah's hand, Common was sure to give Oprah a big hug almost immediately after the quick snub, and all could sleep peacefully.
The hug does seem a little forced though, with Oprah's smile so wide it could be overcompensating. Did the two have problems on set of Selma? Did Common really mean to snub Oprah? And most importantly, did he think no one would notice? Come on Common, you must know better.
We can't be sure whether or not Common really meant to diss the conglomerate Queen. In his excitement it may have just been a mistake, or maybe he just was more concerned with hugging it out with the star of the film, Oyelowo. All we can do is speculate, and keep an eye out in the news for Common's safety and well-being.
Photo Credit: © ABC
Your Daily Blend of Entertainment News