Power Rangers Movie Has Its Red Ranger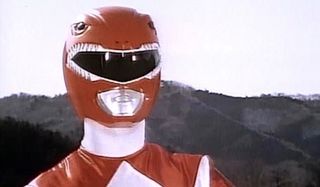 They've still got a ways to go to assemble the full team, but the upcoming Power Rangers reboot is gradually filling out its cast. Recently they announced the identity of the Pink Ranger, and now they've revealed the actor who will play the Red Ranger.
The announcement that newcomer Dacre Montgomery will don the iconic spandex suit and play the Red Ranger, came via the official Power Rangers Twitter account, in the same fashion as the previous proclamation. The Red Rangers is apparently the leader of the team, and Montgomery joins Naomi Scott, who is on board to portray the Pink Ranger.
While Scott is a relatively unfamiliar commodity, Montgomery is almost a total unknown. A quick glance at IMDb and you'll notice that Power Rangers will only be his third credit, and they haven't been particularly high profile projects up to this point. One is a short and the other is what appears to be an Australian TV pilot.
Montgomery's casting does fit with what is becoming the project's trend of handing over big roles to unfamiliar young actors. If nothing else, it shows that Lionsgate is willing to give important roles to newcomers — they probably hope that, should this become a hit franchise, they'll be able to manufacture their own stars and probably lock them in for multiple movies on the cheap.
As the Red Ranger is usually the leader of the team, according to the character descriptions that have already been revealed, it sounds like Montgomery's non-heroic alter ego will be Jason. He's 17-years-old, and has already shown a healthy dose of leadership qualities. As the high school quarterback, he was the big fish in a small pond, destined for huge things, that is until a car crash ruined his knee and he waved bye-bye to both is football career and his popularity. When we first meet him, he's lost, trying to figure out who he is now that he's lost all sense of self. But he still has big things in this future, and will "be leading this disparate group of teens to shed their individual baggage and find who they truly are."
Dean Israelite, who helmed the teen-centric found footage time travel adventure Project Almanac, will direct, working from a script by X-Men: First Class scribes Ashley Miller and Zack Stentz. Power Rangers is said to be a reimagining of the story that fans already know, and could even pick up the continuity from the most recent TV version. However it goes down, the story follows a group of teens recruited by an alien force and given powers to defend the Earth against hostile invaders.
Delayed and pushed back a few times, Power Rangers will begin production sometime early next year and is slated for a January 13, 2017 release.
Your Daily Blend of Entertainment News