Prom Video Interview: The Class Clowns Joe Adler, Janelle Ortiz And Nicholas Braun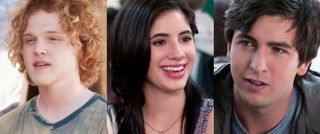 The idea behind Disney's new movie Prom is that every couple has a story, and most of those stories-- young love, new love, breakups-- are being told in this multi-stranded narrative based around the big event at one Michigan high school. But not everyone who goes to prom is part of a longstanding couple or part of a couple at all, and three of the main characters in Prom are what you might call floaters: Lloyd (Nicholas Braun), who is trying everything he can think of to get a date; Ali (Janelle Ortiz), the class gossip who's focused on knowing everyone else's business; and laid-back Rolo (Joe Adler), who swears his super hot girlfriend from Canada will show up in time to be his date.
All three get some of the best comedic moments in the movie, and in person they seem to get along as three class clowns might in real life. When I talked to them on location at John S. Burroughs MIddle School, where Prom was filmed, they talked about how much they think prom matters, who their own prom dates might be, and the crazy experience of the screening the night before, where the crowd of 12-year-old girls in the audience completely lost it to see the three of them-- especially "Rolo"-- sitting in the audience at the end of the movie.
I'll be bringing you interviews with all the stars of Prom throughout the week-- you can already watch my interview with Kylie Bunbury and DeVaughn Dixon and Cameron Monaghan, Danielle Campbell and Nolan Sotillo. Keep checking back before catching Prom in theaters this Friday.
Your Daily Blend of Entertainment News
Staff Writer at CinemaBlend