Queen Latifah, Jennifer Hudson Have Secret Lives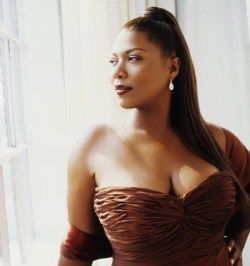 Queen Latifah and Jennifer Hudson: They've both gotten best supporting actress Oscar nominations for roles in musicals, they've both moved on from less-than-prestigious singing careers to movie glory, and they're both, by my approximation, totally awesome. So it's nothing but good news in Variety this morning that the two of them will star with Sophie Okonedo in The Secret Life of Bees, a movie adaptation of Sue Monk Kidd's bestselling novel.
Queen (as she's always called when she shows up on America's Next Top Model for whatever reason), J-Huds and Ms. Okonedo (who does not lend herself to a silly nickname) play three sisters living in rural South Carolina in 1964. They take in a 14-year old white runaway (Dakota Fanning) and, despite the heated racial tensions of the time, they bring her into their beekeeping business and form a makeshift family.
Fanning's casting seems kind of like a knee-jerk reaction, and I particularly worry about her ability to do a Southern accent (my absolute movie pet peeve), but I like this cast overall. Alicia Keys is in negotiations to join the cast too, and before you laugh, she got nice attention for her role in The Nanny Diaries earlier this summer. Hopefully they won't succumb to the temptation of three powerful singers in the cast and throw in one of those montages where all the women sing Motown songs in the kitchen in an act of bonding.
I'm not entirely convinced that Jennifer Hudson can act, but I like her nonetheless, and count on Queen Latifah to elevate anyone she's working with. And Sophie Okonedo is with them in the "best supporting actress nominee" club (for Hotel Rwanda), even if I can't have affection for her based on her ridiculous participation in pop culture. I don't take it lightly when people start going to my home state of South Carolina and making movies, but for some reason I trust these ladies. They at least can't treat it as badly as when they filmed Death Sentence there.
Staff Writer at CinemaBlend
Your Daily Blend of Entertainment News
Thank you for signing up to CinemaBlend. You will receive a verification email shortly.
There was a problem. Please refresh the page and try again.