Quicksilver Back For X-Men: Apocalypse? Here's What Evan Peters Said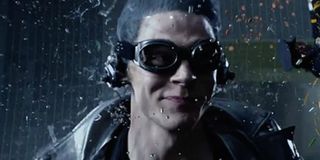 Evan Peters has all but confirmed he will be reprising his role as Quicksilver in X-Men: Apocalypse, before he then adoringly deflated in confusion and angst because he was worried he'd said too much. The bloody, adorable cherub.
Peters made these comments while talking to I Am Rogue, where he admitted that he is yet to actually read X-Men: Apocalypse's script. However it's clear to decipher from Peters' remarks that he will still be involved in the blockbuster.
It's a tad surprising that Peters is still yet to see X-Men: Apocalypse's script. Director Bryan Singer is already hard at work on the pre-production for the film, and he has been peppering his Twitter and Instagram accounts with behind the scenes images and casting news on a regular basis. Most recently it was announced that Kodi Smit-McPhee would be joining the franchise as the new Nightcrawler, which came after Sophie Turner, Tye Sheridan and Alexandra Shipp were confirmed as the new incarnations of Jean Grey, Cyclops and Storm.
At this point, there's every chance that finishing touches are being made to Simon Kinberg, Dan Harris, and Michael Dougherty's script. Which means Singer might be waiting to have everything in line with his production before he ships the pages off to his vast ensemble cast, which will include James McAvoy, Michael Fassbender, Nicholas Hoult, Jennifer Lawrence, Ian McKellan and Oscar Isaac at the title villain.
X-Men: Apocalypse will be the sequel to last summer's X-Men: Days Of Future Past, which saw Bryan Singer return to directing duties on the franchise, having previously overseen X-Men and X2: X-Men United. Since his departure, the X-Men series grew stagnant. X-Men: Last Stand was a colossal disappointment, while despite some thrilling moments the Wolverine solo efforts have only been mediocre. Even the always enthralling Matthew Vaughn's X-Men: First Class was merely an adequate semi-reboot of the series, as it lacked the depth or emotion of Singer's first two installments.
Days Of Future Past rejuvenated the franchise though. It perfectly utilized the time-traveling aspect of its story to create a fast-paced, intriguing and suspenseful flick that also perfectly merged the original X-Men characters with their younger X-Men: First Class counterparts.
Evan Peters was actually a huge reason for the film's success, even though he was only in it for a relatively brief period. His involvement to help get Magneto out of prison, especially when he used his super speed to injure and maim the guards trying to block their exit, was arguably the highlight of Days Of Future Past. You can re-watch it in all of its glory below.
Hopefully we'll get to see more of Quicksilver in X-Men: Apocalypse, which will be released on May 27, 2016. But by then, there's every chance his Quicksilver efforts might have eclipsed by Aaron Taylor-Johnson in Avengers: Age Of Ultron; especially if Joss Whedon can recreate the magic of the above scene in the impending Marvel sequel. Fingers crossed he does too, because then the real winners will be us moviegoers.
Your Daily Blend of Entertainment News