Rachel McAdams Drops Out Of Passengers, Filming Delayed Indefinitely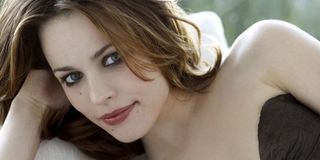 Big budget movies, by nature, are like little miracles. When you hear the level of work and preparation that goes into making one, with an array of fingerprints left on the material, it's amazing that more people don't kill each other in trying to recognize a collaborative vision. The fact is, every day in Hollywood, movies die before they are born. It's rare, but not unexpected, when one of the bigger ones comes apart so completely.
But that's what has happened to Passengers, a sci-fi movie slated to be released on April 3rd of next year. Unfortunately, it just lost it's leading lady and its funding, according to THR: Rachel McAdams has bowed out of the film, leading The Weinstein Company to withdraw their financial support on the film and subsequently remove the release date off the schedule entirely. It's not clear which of these events occurred first: it's certainly possible McAdams saw a troubled project years in the making. And it's possible the Weinsteins second-guessed their financial commitment to the material. Or maybe everyone realized they couldn't achieve the space action the film requires and afford a solid catering budget. McAdams needs her finger sandwiches.
Brian Kirk of Game Of Thrones was set to make his directorial debut on the film, which showed up on the Black List a couple of years ago and has been an in-demand project since. Keanu Reeves would have starred as a lonely passenger on a deep space mission who wakes to find himself alone amidst the sleeping bodies. Waking a companion played by McAdams would have resulted in not only a romance, but in the two banding together to stop the mission from ending disastrously and killing everyone onboard. With the project in flux, producers are seeking other distributors and financiers, but the April 7th start date has been pushed back indefinitely.
You could see how this project was something of a risk. Kirk was making his big screen debut with an ambitious, effects-heavy script on a manageable Weinstein budget, which alone was tempting fate. At the same time, Reeves just suffered another embarrassment at the hands of a first-time director: it was Carl Rinsch who was tasked with bringing 47 Ronin to the screen this winter, a process fraught with complication and conflict. But this sort of thing happened to Gravity frequently as that film, a $100 effort from Warner Bros., repeatedly came together and fell apart over the years, only to become a $700 million behemoth. Maybe kicking dirt on Passengers' grave is a little premature. Whatever the case, producers are looking far and wide to find an available actress who will star alongside Reeves, hoping that someone will step in and save the troubled project.
Your Daily Blend of Entertainment News