Rachel Weisz To Play Jackie Kennedy For Darren Aronofsky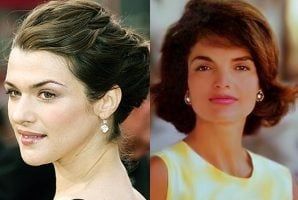 Darren Aronofsky has already directed his partner, Rachel Weisz, in one successful performance in The Fountain, thought that movie was so all-over-the-place that it's hard to say whether or not she was actually good in it. But the director seemed to kind of get back to his simpler storytelling roots with The Wrestler, and now he may be ready to direct his better half in a much more traditional, very Oscar-baity film-- a Jackie Kennedy biopic.
Entertainment Weekly is reporting that Aronofsky is set to direct and produce Jackie, a script by Noah Oppenheim that's when a "hot commodity" at the talent agency CAA since it showed up last month. The film focuses on the First Lady in the four days between JFK's assassination and burial, meaning Weisz won't be going the usual biopic route of aging 30 years over the course of the film, but will certainly get to do a lot of crying.
Honestly biopics are hard to look forward to even in the best of circumstances, particularly when they're about people as well-known as Jackie O, but for Aronofsky we have to make an exception. He made a traditional sports movie honest and heartbreaking in The Wrestler, and don't forget that he thoroughly defined the drug movie for a solid decade with Requiem for a Dream. It's well worth looking forward to what he might have to say about the former First Lady, and that's without even mentioning how killer Weisz will look in pillbox hat. Now start crossing your fingers that a studio picks this up and it all comes together.
Your Daily Blend of Entertainment News
Staff Writer at CinemaBlend