Rachel Weisz In Sin City 2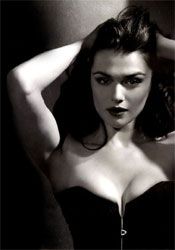 Almost since the first Sin City debuted back in 2005, it's been pretty clear that Robert Rodriguez has wanted Angelina Jolie as the star of the sequel Sin City 2: A Dame To Kill For. Somehow though, Jolie just hasn't been able to fit it into her schedule. Now, after a lot of delays on the project, it looks like she may have been replaced.
A source claiming to be close to the production contacted me tonight to let us know that Angelina Jolie is out, and Rachel Weisz is in. Our source, who asked to remain anonymous, says that Rachel is in talks with Robert Rodriguez's people about taking on the role of Ava Lord, the titular "Dame to Kill For" in the original comic on which Sin City 2 is going to be based. If she gets locked in, rumor has it that Sin City 2 will finally start shooting in 2008.
Now a disclaimer. I hate anonymous sources as much as anyone else. Don't rely on them, I don't. Please take the above as nothing more than a wild and completely unsubstantiated rumor until we can find some less anonymous confirmation.
As for Rachel Weisz, Sin City 2 definitely sounds like the kind of movie she'd be interested in. In that sense the rumor works. But I have hard time picturing her as a dame to kill for. I love Rachel Weisz, she's a brilliant and beautiful actress, but she's not exactly the same type of smoking hot bombshell you'd get in Angelina Jolie. If you're looking for someone to play a woman so hot men kill for her, you look for a more smoldering beauty. Scarlett Johansson maybe.
But that doesn't mean Robert Rodriguez won't cast her anyway. We'll keep an eye out for more information on this rumor as it develops.
Your Daily Blend of Entertainment News
Thank you for signing up to CinemaBlend. You will receive a verification email shortly.
There was a problem. Please refresh the page and try again.