The Real Locations Of Sex And The City - Pt 2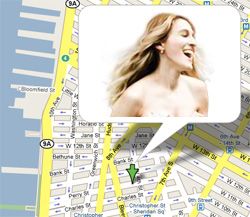 When you think about the four women of Sex and the City all together, what are they usually doing? If you don't watch the show, you'll probably answer "Strutting down the street and objectifying men!" But if you're an actual fan, you'll remember the silly brunches, three-cocktail lunches, and glitzy dinners that made up most of Carrie, Samantha, Miranda and Charlotte's social calendar.
For today's tour of real-life Sex and the City locations, we'll take a look at some of the restaurants made famous by the show—and a few more rumored to be making appearances in the movie. From cupcakes that became an international sensation to a few spots where real, poor New Yorkers like me eat, these restaurants are all part of the real fabric of New York life—even if their roles on the show were entirely fictional.
The SATC connection: Rumor has it this brunch spot has made two appearances on Sex and the City, but from what I remember it was just the spot where Aleksandr Petrovsky and Carrie had brunch with his snooty, uptown New York type friends. "I write a column," Carrie tells the smug lady. "Oh, for the Times?" the smug lady asks, clearly unaware that Maureen Dowd was the only female columnist for The New York Times at the time. How am I smarter than smug lady? Answer me that, Michael Patrick King! No telling if Pastis will make another appearance in the movie, but it is right down the street from another bona fide movie location, which we'll get to later.
The better, real-life option: Pastis is one of those "fabulous" SATC restaurants where people I know have actually eaten—my roommate even saw Monica Lewinsky there!—but you have a few more options if you want to get the same glitz without quite the crowd. Well, the crowds are kind of required. See, the people behind Pastis also own Soho brunch spot Balthazar, and Lower East Side locale Schiller's Liquor Bar. Both pack in the crowds, but, depending on who you ask, they can be a little less scene-y than their more famous sibling. If you're really in a pinch, you can buy Balthazar bread at grocery store locations in town—delicious, and you don't have to fight the crowds to get it.
The SATC connection: Both Pastis and Spice Market share an odd bit of land in Manhattan called the Meatpacking District, which is actually still a location for cutting and shipping meat as well as an epicenter of hot clubs and restaurants. Spice Market is one of the hottest, an enormous Asian fusion restaurant that specializes in attractive waitstaff as well as classy meals. (Yes, a friend of mine used to work there. Why do you ask?) The restaurant wasn't open during the lifespan of the show, but my super-secret spy (a.k.a. my former employee friend) confirmed that the women of Sex and the City share a meal in the restaurant's sidewalk seating area.
The better, real-life option: Well, you can always have a drink at the bar, which is what I did the one time I visited my pal while she was on the job. They serve better-than-average variations on cocktail snacks, and the drinks are weird—in a good, but expensive way. But if you're looking for Asian fusion on a discount, there are approximately a zillion places to choose from in Manhattan, many of them within walking distance of the Meatpacking District. If all else fails there's always the Dumpling Man on St. Mark's Place in the East Village. Not exactly fancy fusion, but damn tasty for about the price of one Spice Market cocktail.
The SATC connection: If you were really Carrie Bradshaw, and you really lived where the show claims she does (66 Perry Street, if you remember from yesterday), you would walk right past this Mexican dive on your way to glamorous Pastis or Spice Market. And Carrie did, dragging Miranda and Steve along with her for a double date that turned out to be a disastrous attempt to get back together with Aidan. Maybe she thought all the shiny tinsel hanging from the ceiling would distract him from the knowledge that their relationship was a terrible idea to begin with?
The better, real-life option: There is no substitute, at least if you're looking for cheap margaritas, huge crowds, a frat party atmosphere, and occasionally, bingo! Not to make this all about myself (though if I were Carrie Bradshaw, isn't that exactly what I would do?), but Tortilla Flats and their margaritas by the pitcher helped my boyfriend and my mom bond so much that we all still talk about our night there. Plus, unlike the inherent girliness of Sex and the City, plenty of (straight!) dudes frequent his place, so you can talk your guy friends into a visit without embarrassing them to death.
The SATC connection: The eagle-eyed pedestrians who constantly reported Sex and the City movie shoots to the website Gawker claim that the movie filmed outside this restaurant last fall. Maybe Pastis is soooo over, and they had to pick a new French restaurant for the movie?
The better, real-life option: French Roast really does have a lot of charms to it—it's been the host to many first dates and birthday gatherings among people I know. But if the Sex and the City effect spreads to this spot, you may want to stick with the uptown version, located at 85th and Broadway. Same menu, same ambience, but maybe a lot fewer Carrie-bots. But if you want to stick around the neighborhood and aren't married to the idea of French onion soup, there's a little bit of movie trivia just across the street. Remember in Elf, when Buddy is about to head off to life in the big city, and Santa warns him that there are like 30 pizza places in New York claiming to be "Original Ray's Pizza," but the real one is on 11th? Yup, it's right across the street from French Roast. Get yourself a slice and thank Bob Newhart while you're at it.
The SATC connection: Surely you must know by now. After being featured on one early episode of Sex and the City, what was once a neighborhood bakery became an international craze. The bus tour stops here. Lines are out the door even in freezing cold weather. The place has a bouncer, for Christ's sake. Carrie and Miranda nabbed cupcakes from this place and ate them at the park across the street—it's so small there's not even indoor seating. And thus, a pastry craze was born, and it hasn't even stopped. I swear, the number of Sex and the City fans lining out the door of this place has caused a cupcake boom in this city. But hey, no complaints here.
The better, real-life option: The Magnolia cupcakes are delicious, and the prices can't be beaten, but for kid-in-a-candy-store decadence, you've got to try Crumbs. There are locations all over the city (find them here), their cupcakes are ginormous, and there's no line out the door. You can get them encrusted in M&Ms, stuffed with Oreos, covered in candy bars, in tiny or extra-large version… just imagine the sugar coma! If you're dead set on Magnolia, though, you can at least avoid the line at hit up the brand-new Upper West Side version, at Columbus Avenue and 69th Street. Plus, that's the neighborhood where Miranda supposedly lives on the show, so you can live vicariously through someone other than Carrie for once.
Read Real Locations Of Sex And The City Part 1 here.
Your Daily Blend of Entertainment News
Staff Writer at CinemaBlend