The Real Reason Elizabeth Berkley Was So Over-The-Top In Showgirls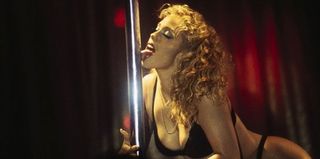 It's no great stretch to call Showgirls a notorious film. Paul Verhoeven's 1995 stripper fiasco is almost equally reviled as a terrible piece of crap and celebrated as a legitimate masterpiece of over-the-top camp trash. One element that received much bile upon release, and that has gained a cult following in the interim, is the performance of lead Elizabeth Berkley. As it turns out, that wasn't entirely the actress' choice as much as it was Verhoeven's.
Showgirls turns 20 this years (that fact seriously blows my mind), and to celebrate this milestone, Rolling Stone sat down with the provocative director of movies like RoboCop, Basic Instinct, and Starship Troopers to discuss his most notorious film, which is saying something looking at his resume. Discussing Berkley's performance, Verhoeven said:
And exaggerate everything she did. Elizabeth Berkley, who before this was best known for her overachieving goody-goody Jessie Spano on the classic teen sitcom Saved by the Bell, certainly went for it with a gusto and abandon that you rarely see in a major motion picture. As a result, she was roundly torn apart by critics for her turn as troubled drifter turned stripper turned showgirl, Nomi Malone, and her career never really recovered from this black eye.
In the years since its release, Showgirls has not only become something of a cult classic (if you haven't watched the film with the David Schmader commentary, it's certainly worth renting the special edition Blu-ray, it's phenomenally entertaining), but it has undergone a critical reevaluation as well. Some critics and filmmakers have praised it as full-on satire of Hollywood, and the entertainment industry as a whole. As a filmmaker, Verhoeven is certainly no stranger to turning out movies that split audiences into those who read them as serious and those who see them satiric criticism. Either way, the guy is still a cinematic maniac.
Satire or not, sharp social critique or campy exploitation film (and who's to say it can't be both?), Showgirls is a kitschy onslaught of full-blown mayhem and a bizarro spectacle to behold. I still can't believe it's 20 years old, but no matter your opinion on the film, we're still talking about it two decades later, which means it left a definite impression.
Your Daily Blend of Entertainment News