Rebecca Ferguson May Join Prometheus 2, Here's What We Know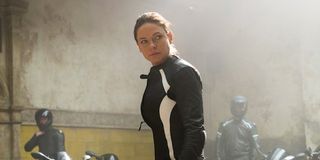 In 2015, few actors have become as hot as Rebecca Ferguson. After more than holding her own with Tom Cruise in Mission: Impossible—Rogue Nation this summer, she's jumped to the top of every casting agent's wish list. She has a number of high profile potential projects in front of her, and apparently one of those is Ridley Scott's Alien: Paradise Lost, or Prometheus 2 if you're so inclined.
Deadline reports that the 31-year-old Swedish actress is "in the mix" for a key female role in the follow up to Scott's 2012 science fiction saga set in the same universe as his 1979 classic Alien. At this stage, not only is there no offer on the table, there haven't even been any solid talks between camps, so for the moment file this under very, very cursory.
One interesting thing to note, however, is that the trade reports the latest draft of the script has been turned in—at one point Ridley Scott said they had been through in excess of 15 versions. Word around the campfire is that this iteration is quite strong and it features "a peach of a female role." That is, presumably, in addition to Noomi Rapace's Dr. Elizabeth Shaw, who, along with the in-pieces android David (Michael Fassbender), was one of the two survivors of the first film.
During the press rounds for The Martian, Scott recently revealed that the new film, which swapped out the Prometheus 2 title for Alien: Paradise Lost, will introduce a new group of "travelers" in the first act. While we don't have any details on these folks just yet, it stands to reason that the part Ferguson is up for is one of these new additions.
Whether or not Ferguson takes the role—if it's offered and if she wants it—scheduling could be tricky. She's in talks to star in director Tomas Alfredson's The Snowman opposite Fassbender. That film is slated to shoot in January 2016, and Paradise Lost is also expected to start production early next year. That could provide some issues to work around.
These roles are just the tip of the iceberg for Rebecca Ferguson right now. She's already wrapped Stephen Frears' Florence Foster Jenkins with Meryl Streep and Hugh Grant; landed a central role in The Girl on the Train with Emily Blunt, Chris Evans, and Jared Leto; and, of course, the possibility of another Mission: Impossible movie that could shoot next summer. She also has Guernsey (aka The Guernsey Literary Society and Potato Peel Pie Society) from director Mike Newell that is vying for her attention. She's even been mentioned in the Captain Marvel casting carnival.
Whether Ferguson lands the part in Alien: Paradise Lost is something we'll have to wait to find out, but given the sheer amount of attention she's receiving these days, we have no doubt that with or without that film, her cinematic dance card will be very full.
Your Daily Blend of Entertainment News
Thank you for signing up to CinemaBlend. You will receive a verification email shortly.
There was a problem. Please refresh the page and try again.