Rebecca Romijn Has The Love Child Of Andy Warhol And Yoko Ono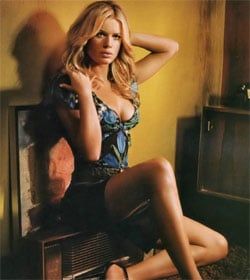 Rebecca Romijn and Donald Sutherland will have a hand in birthing The Love Child of Andy Warhol and Yoko Ono. According to Production Weekly they've joined the cast of this oddly named film.
The movie tells the story of a working class guy caught up in the complicated art world. It does not seem to actually involve Andy Warhol and Yoko Ono having sex which I suppose, is a blessing, unless of course they've cast Rebecca Romijn as Yoko. Maybe that wouldn't be very historically accurate but at least it's visually pleasing.
Directed by Risa Bramon Garcia it starts shooting in Toronto at the end of the month. Here's the official plot synopsis: "When Vince is paroled from his five-year stint for a heist gone wrong, he finds life on the outside to be incredibly challenging. Forced back into a dangerous life of crime by his former boss Kranski, Vince is pressured with having to pay back a hefty debt for botching up the heist. Working as a welder in Kranski's garage/chopshop, Vince finds solace in making sculptures from metal shards and found objects in his spare time. But when his brilliant sculptures are discovered by the sexy, predatory art dealer Belinda, his chance for a new life starts to change as well as his problems. Caught between the pressure to pull off heists for Kranski and becoming the toast of the art world, Vince has to cleverly maneuver and fight his way out to become a free man and his own artist."
Your Daily Blend of Entertainment News
Thank you for signing up to CinemaBlend. You will receive a verification email shortly.
There was a problem. Please refresh the page and try again.