Red Sonja Movie Is Happening, Get The Details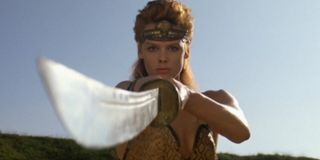 The long-touted remake of Red Sonja has taken a huge step-forward over at Nu Image/Millennium Films after Christopher Cosmos was hired as the film's writer.
The Hollywood Reporter have alleged that plans are currently afoot for the character, who was previously brought to the big screen back in 1985, to return to cinemas at some point over the next few years. Of course, that all depends on how well the studios respond to Christopher Cosmos' updating of Richard Fleischer's sword and sorcery action film. At the moment no further details regarding where Cosmos might take the film have been teased, while there also hasn't been any inkling about which filmmaker might join Cosmos on this Red Sonja reboot.
It's not surprising that the studios are trying to bring Red Sonja back though, as she is, after all, from Marvel Comics. You've got to strike while the iron is hot! The 1985 film revolved around Bridgitte Nielson's vengeful, eponymous character who sets out to retrieve a magic orb from an evil queen. Here's where it gets a little less Marvel-ous, though. You see, Red Sonja is seeking vengeance because the evil queen killed her family and her warriors raped Red Sonja. You can check out the trailer below.
In the past, quite the cavalcade of cinematic talent has been linked with the project. Robert Rodriguez, who has always had an uncanny ability to ground over-the-top and outlandish material for a mainstream audience (Sin City, Machete and Desperado) was previously developing Red Sonja with the studios. Rodriguez's vision for the film would have seen him directing his then-girlfriend Rose McGowan in the titular role. Then the pair went and split up, which kind of scrapped these plans. Who knows, maybe the demise of their relationship was actually down to their creative differences over Red Sonja? That's pure speculation by the way.
Doug Aarniokoski, who actually honed his craft working as an assistant director on Rodriguez's From Dusk Till Dawn, then picked up the mantle that his old boss had left behind and started developing Red Sonja himself. However, Aarniokoski -- who had overseen the likes of 2000's Highlander: Endgame and Nurse 3D, as well as extensively working as a director on numerous television shows -- soon left the film, too. Megan Fox eventually was offered the part, and now Cosmos is looking to reinvigorate the franchise by injecting his cinematic personality into it.
Cosmos doesn't actually have any fully-produced credits to his name. He must have wowed Nu Image/Millennium Films with his take on Red Sonja to be given this opportunity. Let's cross our fingers and toes that this isn't another false dawn for the character.
Your Daily Blend of Entertainment News
Your Daily Blend of Entertainment News
Thank you for signing up to CinemaBlend. You will receive a verification email shortly.
There was a problem. Please refresh the page and try again.