Rose McGowan Gives Red Sonja Update Via Twitter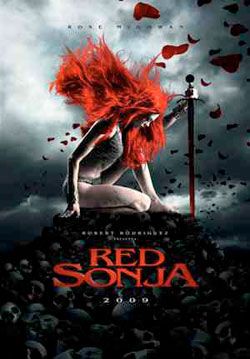 What better way to clarify film production misconceptions than by using 140 characters on Twitter? After San Diego Comic Con 2008, you'd think Robert Rodriguez would have Red Sonja in theaters sooner rather than later. Not only did he unveil two posters featuring a red hot Rose McGowan; he expressed a deep passion and excitement for the project.
Whether or not it had to do with a bump in the relationship road for McGowan and Rodriguez, nothing has been mentioned concerning the film's progress in quite some time. But, in an interview with Empire in May, executive producer Joe Gatta explained Conan will be his prime focus and Red Sonja will likely wait until next year. The original arrangement was to complete Red Sonja first, but Gatta says "certain issues and the economy" forced a change of plans. Chronologically, making Conan first makes sense considering the character Red Sonja didn't appear until issue 23 of Conan the Barbarian.
Her first Tweet regarding the film implies McGowan has pulled out of Red Sonja completely. On August 26th she said, "Just this once i'll address questions about Red Sonja&others;i was meant to do in '08. Major personal &private;reasons I pulled out.Starting 2 want to work again. Sometimes real life fucking sucks.That's all. God bless us survivors." Her more recent Tweets from August 28th, coincide with what Gatta told Empire: "To clarify press reports: Red Sonja is delayed. I pulled out of doing it in '09. Not permanently. Hopefully will follow Conan." "I am still contracted to do it Red Sonja. Hopefully Filming in '10 not '09."
While nothing is a guarantee it seems as though McGowan and Gatta are on the same page and the project will gain some steam at some point next year.
Your Daily Blend of Entertainment News
Staff Writer for CinemaBlend.
Your Daily Blend of Entertainment News
Thank you for signing up to CinemaBlend. You will receive a verification email shortly.
There was a problem. Please refresh the page and try again.