Reese Witherspoon Is Developing A Movie About A Massively Popular Toy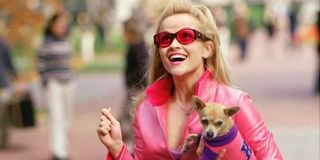 Reese Witherspoon is making a film about Barbie. But while that might sound like Reese Witherspoon is about to live out the fantasy of many a young girl by portraying the world's most famous blonde doll, that's not exactly the case. It's something much more alluring instead. That's because Witherspoon, along with her producing partner Bruna Papandrea, is currently developing an origin story that revolves around the woman who created Barbie, Ruth Handler.
In fact, accordig to The Tracking Board, the proposed movie took quite a giant leap forward over the last few days. Bold Films decided to add the project to their slate after Witherspoon and Papandrea's Pacific Standard picked up the rights to Barbie and Ruth: The Story Of The World's Most Famous Doll And The Woman Who Created Her, written by Robin Gerber, which revolves around Ruth Handler.
At the moment, it's still far too early to know if there are any plans for Reese Witherspoon to actually star as Handler. But since she and Bruna Papandrea are heavily involved in its production, and she has appeared in many of their previous films, she almost certainly has first choice at the part.
Reese Witherspoon previously portrayed Cheryl Strayed in Wild after originally purchasing her memoir, Wild: From Lost To Found On The Pacific Crest Trail, while clearly her fine performance as Elle Woods in Legally Blonde, and Legally Blonde 2: Red, White & Blonde, could work as her audition tape. Not specifically because it sees her character overcoming a variety of obstacles that have been put in place because of the assumptions over her looks, but just because she's so damn magnetic.
Released in 2010, Robin Gerber's book explains how, after seeing her daughter, Barbara, playing with paper dolls, Ruth Handler decided to create a doll that would be able to support the attire that she was trying to put on the flimsy figure. After creating a prototype, toy manufacturer Mattel, where her husband work, created the original Barbie, which premiered at the 1959 American International Toy Fair.
The doll became a smash, and by the 1970s, Barbie was a household name. Sales over the last 50 years have been huge, however, in recent memory they've dwindled because of a backlash over the body image issues that have become linked with the doll. I'm going to guess that Witherspoon's Barbie film will be in much the same style and tone as David O. Russell's Joy.
Reese Witherspoon and Bruna Papandrea will have to work quickly to get their Barbie script finished and movie in production though as Sony has their own film that revolves around the iconic doll in development. But since theirs is set "in the world of Barbie" and sees her using "the skills she has gained in her personal life and professional experience to helps others," the films will be remarkably different.
Your Daily Blend of Entertainment News
Your Daily Blend of Entertainment News
Thank you for signing up to CinemaBlend. You will receive a verification email shortly.
There was a problem. Please refresh the page and try again.