Remake Of David Cronenberg's Videodrome Sets A Director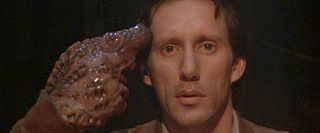 Whether you adore the works of horror auteur David Cronenberg or are utterly perplexed by them, you must admit he's a filmmaker who puts a very distinctive stamp on all he touches. So much so that it's difficult to imagine any of his films virtually any other way. But Universal feels confident that they can make a commercially successful revamp of Videodrome, his original sci-fi body-horror feature that is often counted as quintessential Cronenberg.
Word of this remake first arose back in 2009, but since then it seemed to have sunk into the abyss of Hollywood development. Now, it's re-emerged with Deadline reporting that Universal has hired heralded commercial director Adam Berg to helm. The Videodrome remake will be his feature directorial debut.
While a remake of this film will strike many as absurd, Berg does seem a good fit for the film's unsettling aesthetic. Evidence lies in this chilling ad for Phillips that won the Film Grand Prix at the Cannes Lions International Advertising Festival. Check it out below, but be warned: it is the stuff of waking nightmares.
The original Videodrome starred James Woods as a TV exec looking for the next big thing in television who decides it's essentially snuff TV that depicts the brutal mutilation and murder of random victims. With the emergence of reality television that both raises up and tears down its subjects, it's easy to see how this concept could be relevant to modern audiences, but Berg has a serious challenge ahead of him to make this Videodrome uniquely his own and not a pale (or safe) imitation of Cronenberg's.
The Brothers Grimm scribe Ehren Kruger has revised the original script, reportedly adding Universal-requested elements of large-scale sci-fi spectacle. There's no word on when the Videodrome remake may go into production.
Your Daily Blend of Entertainment News
Staff writer at CinemaBlend.