Remembering Kim Jong-Il With The Godzilla Movie He Made By Kidnapping Its Director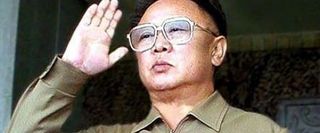 With the news of his death at age 69 breaking last night, North Korean leader Kim Jong-Il is being remembered in many ways this morning, though largely as a looming, possibly nuclear-powered threat to the rest of the world. But while there are other news outlets that will talk about him as a global power and mostly mysterious political figure, let's take a step back and remember Kim for his true love: the movies.
Various reports had surfaced over the years describing Kim as a voracious movie lover who demanded immense control over the North Korean movie industry, turning all of the country's films into propaganda pieces. But that's nothing compared to the bizarre story reported by Mental Floss, recalling the bizarre tale of when Kim kidnapped well-regarded South Korean filmmaker Shin Sang Ok and his ex-wife, Choi Eun Hee, and forced them to make movies for North Korea for 8 years. This was before Kim Jong- Il took over leading the country for this father, and when he was supervising the country's film industry; before kidnapping Shin, he had forced 11 Japanese "cultural consultants" into work on North Korea's movies, only to have some of them actually kill themselves rather than continue on. Shin and Choi lived in more luxurious circumstances, making a series of films including what's apparently a half-decent monster movie called Pulgasari. Still, in 1986 they orchestrated an escape in Vienna, plead for asylum, and were able to return to home.
The full story is bizarre and well worth reading, not enough to really humanize Kim Jong-Il and definitely not the only thing you should know about the man, but a stranger-than-fiction addition to a life story that's already one of a kind. In a time when cinema from nearly every country in the world is available and pretty much anyone can make a movie, it's bizarre to think that an entire country is making films we'll probably never get to see. But hey, if any of you have seen that Godzilla movie, let me know if it's any good.
Staff Writer at CinemaBlend
Your Daily Blend of Entertainment News
Thank you for signing up to CinemaBlend. You will receive a verification email shortly.
There was a problem. Please refresh the page and try again.