Ric Flair Guarantees Oscar Win For Magic Mike Because That's How He Rolls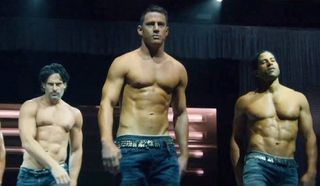 Some days the world can seem like a rather dull place. Then there are those that are infinitely livened up by Ric Flair talking about the Oscars in a way that only a professional wrestler can. Ladies and Gentlemen, today is one of those days, and we should all be extremely thankful for it. The Nature Boy Ric Flair has guaran-damn-teed that he's going to win an Academy Award for his performance in Magic Mike XXL.
It's not really known how big a role the 66-year-old, 16-time world heavyweight champion has in the scantily clad sequel to 2012's Magic Mike. However, he's obviously confident that it's going to make an impact, because during his discussion with Stone Cold Steve Austin on the Unleashed! Podcast, via Uproxx, late last year, Flair confirmed that his performance is going to be one for the ages. Flair explained to the Texas Rattlesnake:
Unfortunately though, we're still not completely sure what Ric Flair's role in Magic Mike XXL actually entails. From his chat with Stone Cold, it sounds as if he plays a character that is more than a little bit similar to his wrestling persona. Hopefully Ric Flair is just playing himself. I'm not sure how that would fit into the story, but Flair did admit that he was given "a minute-and-a-half to talk in promo form" as his character. Which is something that he always excelled with when we wrestled.
Flair also boasted that he did it in one take, and after he'd completed his effort, Magic Mike XXLs lead Channing Tatum turned to him and "said it was the greatest thing he ever saw in his life." What was the secret to Flair's dynamic performance though? He revealed, "I had about 35 cups of Starbucks coffee, so I was ready."
Just because Ric Flair is making a presumptive Oscar-winning performance in Magic Mike XXL doesn't mean that he's a fan of the original though. In fact, Flair admitted to his wrestling peer, "I had never seen the movie, I didn't know much about it." And I am just going to put it out there and say that Ric Flair probably won't be a fan when he actually does gaze upon either Magic Mike or its impending sequel. Because the tale of a group of Florida male strippers trying to live, profit, and be hunky just doesn't sound like his cup of tea.
We'll see if Ric Flair's inspired addition to Magic Mike XXL's already impressive ensemble, which includes fellow wrestler Kevin Nash, Jada Pinkett Smith, Michael Strahan, Donald Glover, Joe Manganiello, and, of course, Tatum, is truly Oscar worthy when the raunchy drama hits on July 1, 2015.
Your Daily Blend of Entertainment News