Channing Tatum's Wife Has The Sexiest Job In The World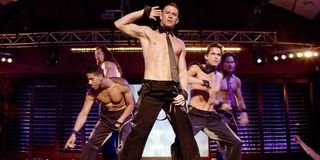 They met on the set of Step Up. Since then, Channing Tatum and Jenna Dewan-Tatum married, had a baby, and now they're collaborating once more on Magic Mike XXL. But not in the way you might suspect.
Talking with People Magazine to promote his upcoming animated venture, Book of Life, Channing Tatum revealed his Mrs. has a special job on the sequel to Magic Mike. Essentially, Jenna Dewan-Tatum is a consultant on the title character's strip routines. Tatum explains:
So Jenna Dewan-Tatum is getting a preview of all the ass-shaking, swagger-packed choreography fans of the first film won't get to see until 2015. She's a lucky lady on many levels.
Tatum went on to say that as he and his wife are both professional actors, they get that kissing co-stars for the camera is part of the gig. That doesn't mean it's always easy to see your spouse canoodling in a role. But when it comes to Tatum baring almost all--while busting out heart-racing dance moves--for this surprise franchise, he says his wife totally understands. "She actually loves Magic Mike, believe it or not," Tatum said, adding, "If I was just doing some movie about strippers, then she'd probably be like, 'Why do you want to do that?' But it started off as a story that I really love, and it's grown into something that I love even more because it's a weird world that I experienced in my real life. It's just a part of me telling some part of my life. And she understands that."
Just in case you need a reminder that yes, Magic Mike is inspired by Channing Tatum's past as a stripper, here's a handy vid that's NSFW.
Dance skills--not to mention sex appeal--like what's evident above helped Tatum snag the lead in the dance drama Step Up, which co-starred the then Jenna Dewan. Together, they brought movie magic to theaters that spurred sequels that are still churning out today. Since then, she has tackled television with projects like Witches of East End, and her husband - who truly broke out in 2012 with the combination of Magic Mike, The Vow, and 21 Jump Street, - is gearing up for what could be his first run at Oscar season..
Magic Mike XXL is set for July 1st, 2015.
Your Daily Blend of Entertainment News
Staff writer at CinemaBlend.