The Ridiculous Reason The BAFTAs Cut Bob Hoskins From Its In Memoriam Reel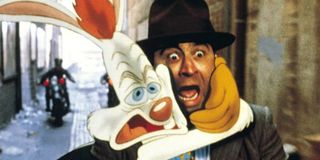 In 2014, the world lost the great and talented Bob Hoskins. Best known for his role as Det. Eddie Valiant in the film Who Framed Roger Rabbit, the actor passed away from pneumonia at the age of 71 on April 29 after a drawn-out battle with Parkinson's disease. During the BAFTA ceremony this past weekend, however, an in memoriam video tribute that aired neglected to honor Hoskins. This sent many people on Twitter into an uproar, but BAFTA has since to responded with their reasoning.
In a statement from the organization, which can be read in its entirety on Sky News, the reason they omitted Hoskins from their tribute is because of this small rule they have that says you can't be featured in more than one televised obituary. Hoskins had already been featured in the obituary that aired during the academy television awards last year, and BAFTA didn't want to wait all the way until 2015 to pay their respects. They also cited the amount of people they wanted to recognize in the short amount of time afforded. Unfortunately, this detail seemed trivial to many who took to social media in outrage. Among them was TV personality Piers Morgan, who bashed the snub on Twitter.
Elsewhere, some users, like David Baddiel compared the act to the overall dismissal of the working-class man in today's society. Hoskins was a member of this economic class, having worked his way from very humble beginnings in Suffolk.
Others took a more harsh stance in looping this snub in with Selma, which was snubbed and drew a greater amount of heat to BAFTA. In addition to Hoskins, television and film star Rick Mayall was also snubbed from the video tribute, though it seems as though BAFTA didn't specifically address his omission.
It seems like a silly rule on BAFTA's part, considering Bob Hoskins won a BAFTA in 1986 for his role in Mona Lisa, that of a prostitute's chauffeur named George. He was also nominated three other times — at the TV awards for Pennies from Heaven, and at the film awards for The Long Good Friday and The Honorary Consul. He's also known for starring opposite Robin Williams as Captain Hook's righthand man, Smee, in Hook.
Bob Hoskins put smiles on all of our faces and delivered stirring performances throughout his career, and it seems the least BAFTA could've done was set aside a few seconds of their video obit for him. In the grand scheme of things, however, the organization has bigger issues to deal with, like the racing tide of critics who claim that its snub of David Oyelowo and his Martin Luther King Jr. film was racially motivated. But that's a story for another time.
Your Daily Blend of Entertainment News