Robert Downey Jr. May Join Michael Fassbender's Assassin's Creed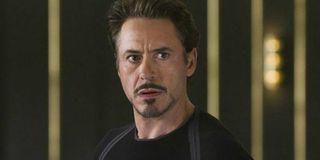 Robert Downey Jr. isn't opposed to franchises. The massive movie star isn't opposed to role-playing in epic period thrillers. But does Robert Downey Jr. need another big role in what's shaping up to be a franchise-launching tentpole based on a hugely successful and popular video game series?
Take this bit of news with a grain of salt, but it is being reported that Robert Downey Jr. has "signed on" to play Leonardo da Vinci in the movie adaptation of Assassin's Creed, with Michael Fassbender attached to the leading role of Desmond Miles. In this version of the story, Fassbender's character will be a bartender who is "captured by a large corporation and is forced into a machine, named 'The Animus,' allowing him to relive the memories of his ancestors … to retrieve powerful and dangerous artifacts." IGN picks up the story of Robert Downey Jr.'s possible involvement with the movie, but sources a MoviePilot article (uh-oh) that already has been taken down (even worse).
Those who have played the video game on which Assassin's Creed will be based already are familiar with the time-traveling aspect of the storyline. But where does Da Vinci fit in? The acclaimed artist was introduced in Assassin's Creed II, providing assistance to the character of Ezio Auditore da Firenze when the action in the game shifted to Italy. The character returned for several Assassin's Creed stories (mainly novels), including Renaissance and Brotherhood. The mythology of Assassin's Creed extends far beyond the rich, cultural game – which explains why Hollywood wants to get into this universe.
The role of Da Vinci could end up being a small mentor part, one that allows Robert Downey Jr. the chance to interact with and assist Michael Fassbender's Desmond Miles as he acclimates to the Animus and figures out how to operate in the land of the assassins. RDJ could chew some scenery, trade barbs with Fassbender, and collect a nice paycheck in between Marvel gigs and Sherlock Holmes sequels.
But how trustworthy is this information? While I don't think Robert Downey Jr. is opposed to playing in a large universe like this, he has a number of properties to which he has committed, and his cameos tend to be in the assistance of friends (like Jon Favreau, and Chef). The fact that whatever MoviePilot page started the story is now gone, we are saying this is possible. But we'll wait until reputable sources confirm Robert Downey Jr.'s involvement in the 2015 Assassin's Creed movie before we start getting our hopes up.
Movie junkie. Infatuated with comic-book films. ReelBlend cohost. Resident dad. Extroverted introvert. Wants to see the Snyder Cut. Managing Director at CinemaBlend.
Your Daily Blend of Entertainment News
Thank you for signing up to CinemaBlend. You will receive a verification email shortly.
There was a problem. Please refresh the page and try again.