Robert Downey Jr. Weighs In On The State Of Iron Man 4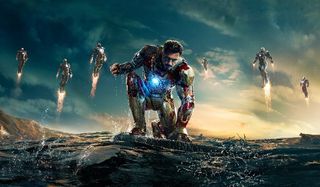 Right now, Robert Downey Jr. is the man with one of the most powerful franchises in his hand. If it were up to Marvel, they would have a new Iron Man film out every year, since the last film was a billion dollar hit. But for now, all parties involved are holding steadfast on Downey Jr.'s contract, which stipulates two more Avengers films and no further solo Iron Man adventures. Could Downey possibly change his mind about not coming back to the solo films?
In an interview with Entertainment Weekly (who seriously have the Marvel hookup), Downey reveals that he's absolutely up for more, but that it depends on "negotiations." Which is what people like Downey Jr. call money.
Downey finished 2013 as the year's highest paid actor due to the massive $75 million he recouped through back-end deals in Iron Man 3. He'll receive a similar amount for next year's Avengers: Age Of Ultron, provided the film performs up to expectations and makes a comical amount of money. And outside of that, his career is going swimmingly: later this year he's got The Judge and he can always return to the Sherlock Holmes films. Beyond that, it seems certain we can find an A-List director willing to work with him. That Robert Downey Jr. is sure to make something of himself soon.
In other words, Iron Man made him what he is, but Downey doesn't need the suit anymore, nor does he wish for it to define him. Early reports on Avengers: Age Of Ultron, however, suggest he's got a smaller supporting role this time around. Is his desire to downplay Tony Stark going to result in the marginalization of his most beloved role?
The flip side is, does anyone want to see a 55 or 60 year old Tony Stark? Downey basically thinks there's a chance they could run this character ragged, but that hasn't stopped Marvel from getting Captain America and Thor into four movies in five years with next year's Age Of Ultron. Is Robert Downey Jr. basically questioning the Marvel model? Or is wearing that suit just a cumbersome pain in the ass?
Perhaps Downey knows the limitations of the character. How many more Iron Man stories can you tell? There are a number of good ones in the comics, but many of them either render Tony Stark static, depict him as a jerk, or find a way to re-establish just another status quo. Maybe Downey realizes the pratfalls of repeating himself: after all, that second Sherlock Holmes collected over half a billion dollars at the box office, but no sequel is forthcoming. Robert Downey Jr. holds the keys to the Tony Stark empire, and he's not ready to relinquish them yet.